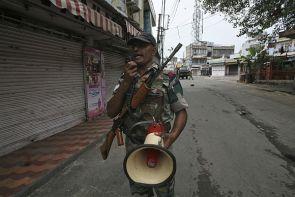 A large number of Muslims have been evacuated by security forces to a relief camp, while some have themselves moved out of their native villages fearing the onslaught of Hindu Jats in the riot-hit Muzaffarnagar district of Uttar Pradesh. Two days of unabated communal violence claimed 30 lives.
Likewise, Hindu Jats too have deserted their homes in Muslim dominated villages to take refuge in "safer" areas.
Additional army troops were called in to ensure safe passage for those being shifted from at least four villages to a temporary camp set up in Jola village -- about 35 km from Muzaffarnagar district headquarter. About 3,000 people were estimated to have converged there.
Curfew remains clamped in areas under three police stations of Muzaffarnagar city, while heavy police deployments are in place in a dozen villages of both Muzaffarnagar and Shamli.
Muslims were being evacuated from about eight villages that are believed to be dominated by Jats.
"The situation was now under control and no fresh incident of violence was reported from any of the riot-hit dozen-odd villages or the city localities since last night," said State's Principal Home Secretary R M Srivastava on Monday morning. He added that no incident was reported from any part of Muzaffarnagar since last night. "Four persons died overnight from among the 42 injured," Srivastava said.
He refuted media reports of any "shoot-at-sight" orders. "We have directed our men to open fire only if the violent mobs refuse to abide by orders of officials on the ground," he clarified.
Meanwhile, a total of about 8,000 security personnel have been deployed in the riot-affected parts of Muzaffarnagar. According to a local police official in Muzaffarnagar, "besides about 900 military troops, there were 3,000 civil police, 1,500 CRPF and ITBP personnel, 600 RAF and around 1200 PAC jawans detailed to handle the situation."
A local journalist said that the presence of the army had brought things under control in affected parts of the city, but violence had spread to over a dozen villages, where the rioters were giving the security forces a tough time. "Rioters were fighting pitched battles with the police by using the sugarcane fields in the villages as cover," he said.
Even as officials claimed that last night was "incident-free," the scribe claimed, "We heard gun-shots at night and there were reports of crude bomb explosions in some of the villages."
Additional Director General of Police (law and order) Arun Kumar, who was camping together with State Police Chief Devraj Nagar in Muzaffarnagar said, "The situation is under control as of now but we are on high alert and curfew will remain clamped in parts of Muzaffarnagar city while security forces are doing regular rounds in the affected villages to contain any kind of violence."
Kumar admitted that there were a couple of incidents where rioters attacked the police. "We are trying to track down such elements and bring them to book," he said.