Negligence at the local level appeared to have caused the derailment of Utkal Express in Uttar Pradesh's Muzaffarnagar, one of the deadliest train accidents in the recent times in which 22 people were killed and over 150 injured, 26 of them grievously, officials indicated on Sunday.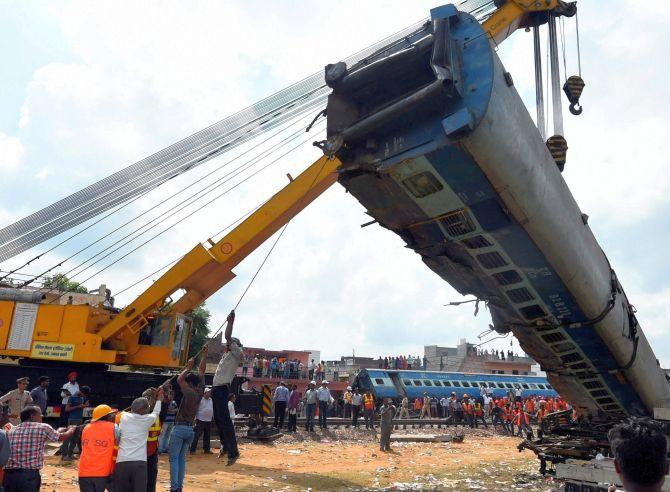 A probe has been ordered to ascertain the exact cause of Saturday's derailment, with Railway Minister Suresh Prabhu directing railway board chairman to fix responsibility on "prima facie evidence by the end of day".
The train, which was on its way from Puri in Odisha to Haridwar in Uttarakhand, had 23 coaches, of which 13 derailed, said Divisional Railway Manager, Delhi Division, R N Singh.
Six coaches of the train, which was running at a speed of over 100 kmph, were severely damaged, he added. One coach crashed into a house.
The railways have deployed high-tech cranes and scores of workers to clear the tracks near Khatauli.
Two 140-tonne cranes were being used since Sunday morning to clear the derailed coaches, from which survivors had been rescued and bodies pulled out.
Rescue operation by the National Disaster Response Force got over at around 3 am.
The death toll in the accident on Sunday went up to 22, with one more person identified as Sushil Kumar succumbing to his injuries in a hospital in Ghaziabad, according to District Magistrate of Muzaffarnagar G S Priydarshi. Of them, 15 bodies have been identified.
Principal Secretary (Information) to the UP government Awanish Kumar Awasthi said 156 people were injured in the derailment and many among them remain critical.
A preliminary probe has found that maintenance work was being carried out on the tracks which might have caused the derailment, said Mohd Jamshed, Member Traffic, Railway Board, at a news briefing in New Delhi.
The senior official, who rushed to the spot in Khatauli in Uttar Pradesh where the accident occurred, said he had seen maintenance tools on the tracks.
"Prime facie, it seems maintenance work was being carried out on the tracks.... Some maintenance work was going on, which might have caused the derailment of Utkal Express," Jamshed said.
He said a probe would reveal if any maintenance work was being done on the tracks without permission.
"Prima facie, the information is that there is divisional responsibility involved if work was being done without seeking permission. By this evening we will know if any of our staff was responsible for this," he said.
It was not "clear" what kind of work was going on at the site, the official said.
"However, any work on tracks has to follow a manual. We have maintenance manuals which lay down guidelines for work on any kind of railway infrastructure," Jamshed said, adding the probe will reveal if the procedures were followed.
The probe, which will begin on Monday, will be conducted by the Commissioner of Railway Safety, Shailesh Kumar Pathak, who will look into "every angle, be it sabotage, technical lapse or manual fault".
"There is some audio clip of some conversation that we will probe. Also, when we did the site inspection, we saw some equipment the railways use for track repair present there," he said.
"Whenever this kind of a big accident happens, coaches get smashed, toppled, capsized and derailed. In this case, a 200-metre track has been damaged completely. It has to be investigated in detail. All measurements are being taken and every lapse is being taken into account," Jamshed said.
The senior officer also said the Railway Police had lodged an FIR in the case at Khatauli under sections that included mischief causing destruction of railway property, causing death by negligence, causing grievous hurt, endangering life and personal safety.
Explaining the procedure for maintenance followed by the railways, Jamshed wondered if it was followed in this case.
"Fixed infrastructure on which the rail network runs like tracks, overhead equipment and signals are regularly maintained as per schedule. Maintenance of tracks is done during operations by blocking them as per requirement, according to fixed time and schedule. Written permission needs to be taken for this work," he said.
He also said sometimes repair needs to be done on an emergency basis, but even then, if the next station is informed, the consequent trains are stopped.
"Then we get our supervisors on the track which is inspected and repaired after which the trains are allowed to run with a speed restriction. Red flags are also shown to trains in case there is a problem on the tracks," he said.
He said it would be investigated if these protocols were followed this time.
IMAGE: A mangled coach of the Puri-Haridwar Utkal Express train being hauled of the tracks by a crane, at the accident site in Khatauli near Muzaffarnagar on Sunday. Photograph: Shahbaz Khan/PTI Photo
586 train accidents in last 5 years; 53% due to derailments
Nearly 53 per cent of the 586 train accidents in the last five years were due to derailments with the Utkal Express derailment being the latest.
Notwithstanding the railways' attempts to upgrade the safety apparatus, many such accidents continue to occur.
According to official figures, of a total of 586 rail accidents in the last five years, nearly 53 per cent were due to derailments.
Since November 2014, there have been 20 rail accidents, many of them minor.
The worst accident was the November 20, 2016 derailment of the Indore-Patna Express near Kanpur which resulted in 150 deaths and over 150 injuries.
The train pulled out of Pukhrayan station, on the outskirts of Kanpur, and derailed soon after. Several causes, including overcrowding and fracture in the railway line, were attributed to the accident.
On September 12, 2015, a narrow-gauge train, the Shivalik Queen, a chartered train from Kalka to Shimla, derailed on September 12, 2015.
Thirty-six British tourists and a tour guide were on the train. Two of the tourists died in the accident and 15 were injured.
Nine coaches of the Secunderabad Junction–Mumbai Lokmanya Tilak Terminus Duronto Express derailed near Karnataka's Kalburgi town on September 12, 2015, resulting in two deaths and seven injuries.
The Madhya Pradesh twin train derailments happened on August 4, 2015 when the Kamayani Express, on its way to Varanasi in UP, was the first to derail owing to flash floods in the area, followed by the Janata Express. The total casualty was 31 with over 100 injured.
The Rourkela-Jammu Tawi Muri Express derailed in Kaushambi district of Uttar Pradesh on May 25, 2015. Eight bogies of the train derailed, leaving five dead and over 50 injured.
On March 20, 2015 the Dehradun-Varanasi Janata Express derailed in Rae Bareli district resulted in the death of 58 passengers and injuring over 150.
On February 13, 2015, 10 people were killed and around 150 were injured when nine bogies of the Bangalore-Ernakulam Intercity Express derailed on the outskirts of Bengaluru.