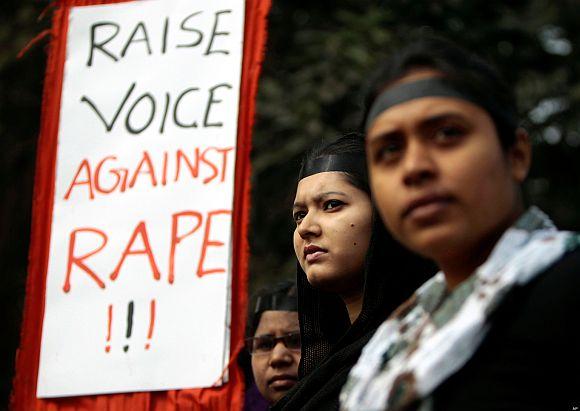 Uttar Pradesh still reeling from the dastardly rapes of two sisters in Badaun was left shocked after another woman was allegedly raped, murdered and hanged from a tree in a village of Bahraich district.
The body of the victim, 45, was found hanging from a tree on the outskirts of her village Kurianpurwa, which falls under the jurisdiction of Ranipur police circle on Wednesday morning.
According to the report lodged by her son, the victim was gang-raped by five people of the village against whom he had complained to police.
Three persons have been arrested in connection with the incident.
The son said in his report, "My mother had left home on Tuesday afternoon to go to Lucknow to seek treatment for her heart ailment. She had barely reached Bahraich when I called her, as my wife developed some complications during her delivery. She asked me to escort her from the bus station home. When I reached the spot at the expected time, she wasn't there."
The son added that when he approached the cops on Wednesday, they took him to the spot where they had found a body hanging from a tree and that is when he identified his mother. "I presume that after my mother reached Rampurwa Chowki, she was kidnapped and forcibly taken away by five persons," he added.
A depressed son added that he had complained about the five in the past too because of their involvement in illicit liquor brewing. "They committed this dastardly crime to seek revenge against me," he added.
Superintendent of Bahraich police, Happy Guptan said, "As of now, we have registered a case of murder. As soon as we get confirmation of rape, we will add the relevant sections of the Indian Penal Code."
This is the third case of its kind in the state, since the gruesome gang rape and hanging of two teenaged cousins in a village of Badaun district of Uttar Pradesh on May 27.