A suspected Islamic State terrorist was killed in Lucknow on Wednesday after 12 hours of anti-terror operation to capture him alive, police said.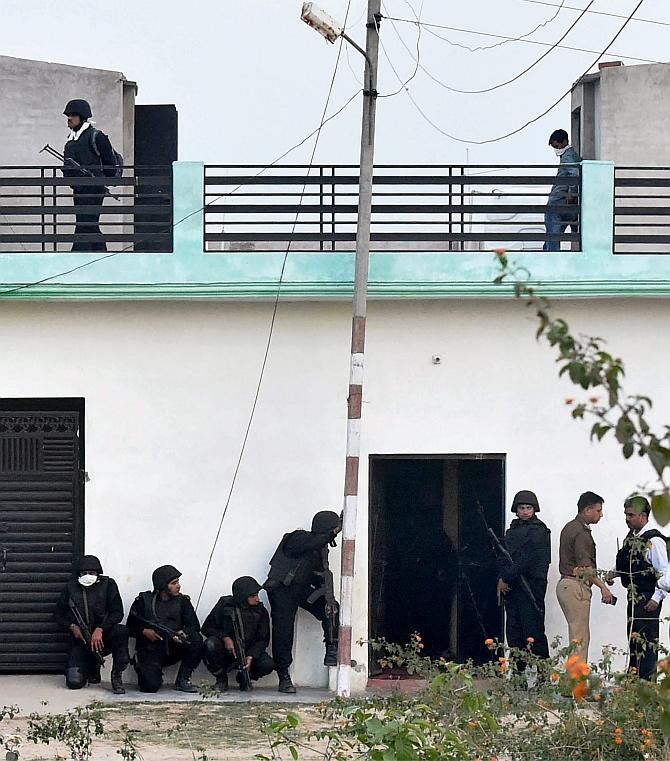 "After opening the doors of the house (where the terrorist was holed up), the force went inside and found the suspect dead along with weapons," Additional Director General of Police (Law and Order) Daljit Chaudhary said.
"At one point of time it appeared that more than one person was holed up inside the house," he said.
Chaudhary said that the operation "stands closed now. Rest of the legal formalities will subsequently take place."
The IG ATS Aseem Arun confirmed that the slain terror suspect was an active member of the ISIS.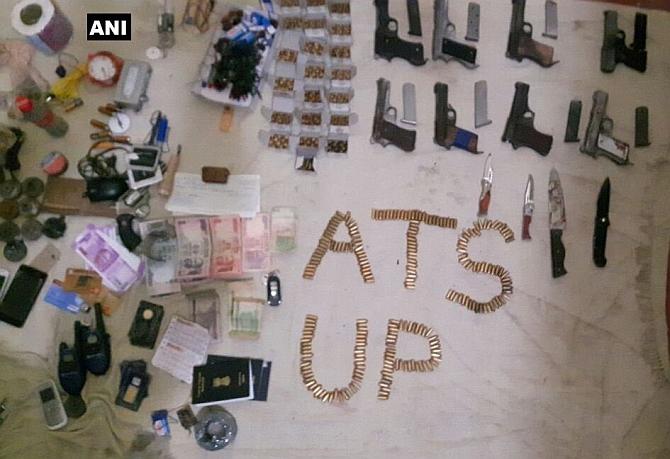 "The slain terror suspect belongs to the Khurasan module of the ISIS and was an active member. But, whether he has been indoctrinated or not is a matter of investigation," Arun said.
Anti-terror operations were carried out to get hold of terrorists, suspected to be linked with the Bhopal-Ujjain train blast near Jabdi station in Shajapur district of Madhya Pradesh on Tuesday in which at least 10 people were injured, three of them seriously .
Speaking to the media after the anti-terror operation was over, Arun said, "Efforts were made to catch the suspected terrorist (identified as Saifullah) alive, but unfortunately this did not materialise. We fired tear gas shells and chilly bombs, so that he comes out. But, he did not come out."
The ATS commandos then stormed inside the house (after issuing a warning to the terrorist), Arun said, adding "The suspected terrorist then fired at the ATS commandos, which was then appropriately retaliated by the ATS commandos. After this, two rooms were thoroughly searched and checked, and the person identified as Saifullah was found dead."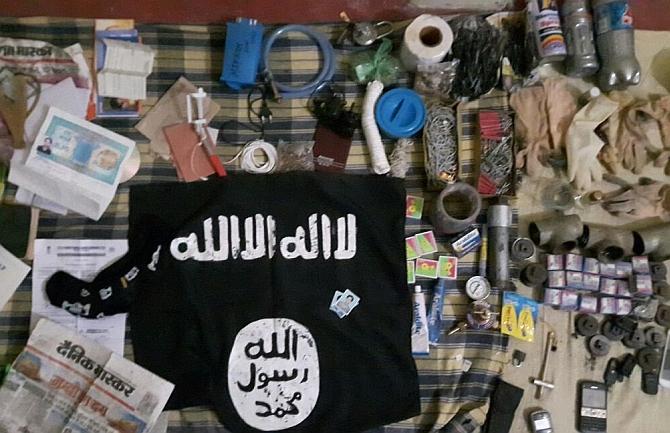 "A pistol, revolvers, knife and ammunition have been recovered," he said.
The commandos also saw a wire wrapped around the stomach of the terror suspect, Arun said.
"We suspect that it could possibly be an explosive. Hence, the Bomb Disposal Squad has been called to clear the room first. After this the investigations would commence," he said.
On earlier reports of two terrorists being holed up in the house, the IG ATS, said, "Since we were using the tube cameras to ascertain the details (of the suspected terrorists), the image was not very clear, and it appeared that there may be two terrorists holed up in the house. But, when the search and clear operations were carried out, only one dead body was found."
Asked to comment on the possible terror linkage of the slain terrorist, Arun said that this would be answered during the course of investigation.
IMAGES: (Top) Uttar Pradesh anti terror squad personnel and commandos during their operation against suspected terrorists holed up inside a building in the Thakurganj area of Lucknow. All photograph: Nand Kumar/PTI Photo; (Below) the weapons and bomb-making material recovered after the operation. Photographs: ANI