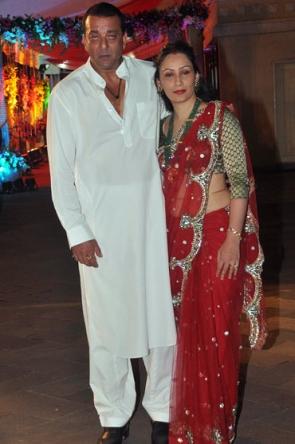 Republican Party of India activists on Saturday staged protests outside the Yerawada Jail in Pune, Maharashtra, against the release of actor Sanjay Dutt on parole for a month to spend time with his 'ill' wife Manyata.
Dutt is currently lodged in Pune's Yerawada Jail for his role in the 1993 serial bomb blasts in Mumbai.
Yerawada Jail Superintendent Yogesh Desai said Dutt had submitted an application for the parole along with his request for a medical furlough in October.
Dutt is likely to return to his Mumbai residence on Saturday.
The 53-year-old actor was sent to jail in May to serve the remaining 42 months of his five-year sentence after being convicted of possessing illegal firearms in the 1993 Mumbai bomb blasts case.
He had earlier been granted a 14-day medical furlough at the beginning of October, which was extended further by another 14 days on health grounds. He was effectively at his Mumbai home all of October and returned to the prison on October 30.

Though Dutt has claimed that Manyata is unwell, his wife was seen at two separate events in Mumbai recently.
She was present at actor Shahid Kapoor's special screening of his latest movie R.... Rajkumar at a studio in Juhu.
She later attended the birthday party of a friend.
Divisional Commissioner Prabhakar Deshmukh confirmed the development on Friday.
"The parole application was recommended by an ACP in Mumbai police and the jail superintendent of Yerawada prison. Considering these recommendations, I have approved Dutt's parole for 30 days. The reason for seeking leave was his wife's illness," he said.
Reacting to this development, advocate Abha Singh said, "Zaibunissa Kazi and Sanjay Dutt went to jail together. She has not been granted parole despite her advanced age, but Dutt has been granted parole repeatedly."
Social and civil rights activist Annie Raja said, "There are thousands in jails who never get to meet their loved ones. This is an injustice to those people."
The Bharatiya Janata Party has asked Maharashtra Home Minister R R Patil to cancel the parole granted to Dutt and initiate action against the officer who approved the relief.
"He (Dutt) has already availed of the facility and it is outside the norms to grant it to him again. Patil should initiate a probe into this," said Gopinath Munde, Deputy Leader of the BJP in Lok Sabha.
"The home minister should cancel the parole as he has the authority to do so. He should initiate action against the concerned officer," Munde told reporters.
Meanwhile, taking note of the controversy, Patil has ordered an inquiry to ascertain the basis for granting parole to Dutt.
"The parole has been granted by the divisional commissioner. We are looking into the matter and have sought documents which formed the basis for allowing his release on parole," he told reporters earlier in the day.
"We learnt that Dutt was granted parole as his wife was ill. Only doctors can comment on her health but media is showing visuals of her attending a film function the previous day," Munde said.
"I am surprised that Patil wasn't aware of the parole development. Only two people are authorised to grant parole. One is the home minister and the other is the divisional commissioner," Munde said.