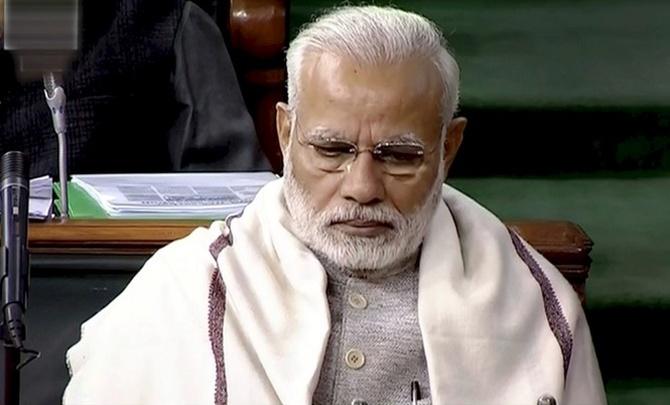 In a fresh attack on the central government, the Shiv Sena today said the nation is reeling under "financial anarchy".
The BJP's carping ally said many banking frauds have come to light during the four-year-old tenure of Prime Minister Narendra Modi and sought to know what action has been taken by his government against those who "looted" banks.
"The economy of the country has been destroyed under the Modi government. Modi wanted to show that he, and not (his predecessor) Manmohan Singh, was the real economist by bringing the rupee at par with the US dollar," the Sena said in an editorial in its party mouthpiece Saamana.
"However, the Indian currency has plummeted to its lowest levels," it said.
The Uddhav Thackeray-led party said banks and financial institutions are engaging in undisciplined behaviour and those who "looted" banks ran away from the country under Modi's nose.
"What happened to the promises of not tolerating corruption and sending those engaging in it to jail?" the Sena publication sought to know.
Citing the recent criminal case registered against Pune-based developer D S Kulkarni for allegedly cheating a public sector lender, the Sena said many banking frauds have come to fore during the Modi regime.
Allegations of wrongdoing have also been levelled against ICICI Bank CEO Chanda Kochhar and businessmen Nirav Modi, Mehul Choksi and Vijay Mallya, said the Sena publication.
"Big industrialists have drowned loans worth nearly Rs 1.25 lakh crore. This includes big names and nationalised banks. How many chairmen of banks have gone to jail for giving loans illegally? What strong step has Finance Minister Piyush Goyal taken against those who looted banks?" it asked.
The Sena said demonetisation caused panic in the country and adversely affected its economy.
"The country is reeling under financial anarchy (due to note-ban) and it is only increasing," the party claimed.
"The demonetisation caused a lot of harm to the unorganised sector and unemployment increased. Also, claims that demonetisation would end terrorism in Kashmir proved to be hollow," the party said.
The Sena demanded registration of a case against the RBI governor over the demonetisation exercise, which led to scrapping of high-value notes.