Madhya Pradesh Home Minister Babulal Gaur will be the next chief minister. His name was proposed by outgoing Chief Minister Uma Bharti, which was accepted by the BJP legislatature party. He was unanimously elected by the party MLAs.

His name was seconded by Himmat Kothari.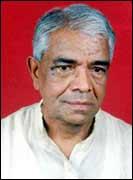 The meeting was attended by BJP general secretaries Arun Jaitley and Shivraj Singh Chouhan. Gaur has been elected to the state assembly on eight occasions.
Earlier, sources had told rediff.com that Assembly Speaker Ishwar Das Rohani's was also one of the contenders vying for the chair.
| | |
| --- | --- |
| | Also Read |
| | |
Senior leader Arun Jaitley was the chief observer in the BJP legislature party meet in Bhopal.

Sources in Bhopal had told rediff.com Gaur was the leader in the race.

They, however, had also pointed out that state party chief Kailash Joshi in Delhi was 'pulling strings' to clinch the chief minister's post.