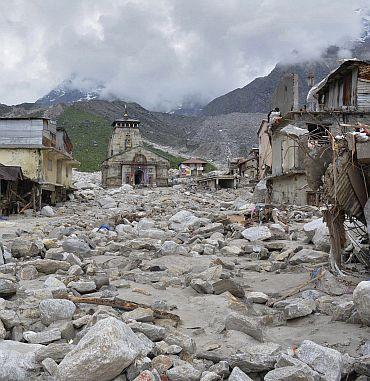 With the weather clear at most places across Uttarakhand over the past few days, 64 more bodies were found lying over the ridges in Kedar valley and cremated with necessary rituals, a senior police officer said on Thursday.
"These bodies seem to be of devotees who climbed up the ridges out of fear after the mid June calamity to save themselves and perished due to extreme cold conditions there," IG R S Meena told PTI.
A total of 64 bodies have been consigned to flames over the past two days between Rambada and Kedarnath shrine, he said.
"We have resumed our search for bodies trapped in the higher reaches and ridges of the valley which we could not access earlier due to bad weather.If the weather permits, the process will go on for the next few days in Junglechatti, Rambada, Gaurigaon and Bheembali areas of the valley where we expect to find bodies," he said.
Apart from clear weather, the approaching date for resumption of prayers at the Himalayan shrine on September 11 has also led to a fresh impetus in the search for bodies, the IG said.
"However, as of now we are concentrating on areas where bodies are lying visibly on the surface and not in places where they may be lying underneath the debris," Meena, who along with DGP Satyavrat Bansal paid a visit to Kedarnath on Wednesday to review the preparations for the September 11 prayers at the shrine, said.
About 30 police and NDRF personnel are engaged in the exercise at present, he said.
There has been a let up in rainfall across Uttarakhand over the past few days with light to moderate rains lashing isolated places, MeT office Director Anand Sharma said.
Uttarkashi and Munsyari were the places that recorded maximum rainfall of 35 mm and 28 mm respectively in the last 24 hours, he said.
Similar weather is likely at most places in the next 24 hours, he said.
Image: Reuters