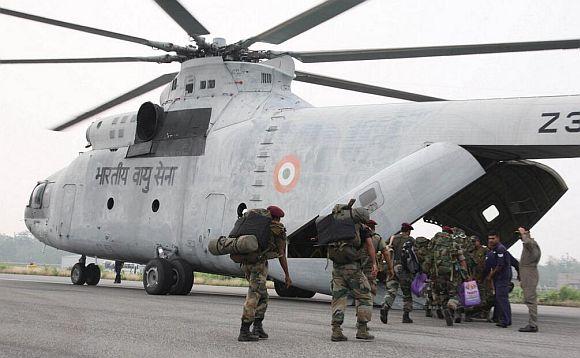 After a brief suspension due to bad weather early in the morning, the rescue operations in rain-hit Uttarakhand resumed on Sunday on a war footing to evacuate 22,000 pilgrims still stranded in high altitude areas amid a MeT department warning of light to moderate rains in the region from Monday.
About 70,000 pilgrims have been evacuated so far from the worst-hit Rudraprayag, Chamoli and Uttarkashi districts where the famous Himalayan shrines of Kedarnath, Badrinath, Gangotri and Yamunotri are located.
Over 40 choppers and 10,000 army and paramilitary personnel are engaged in the rescue operations following one of the worst calamities that hit the hill state last week.
Moderate rains in Dehradun and Joshimath delayed start of rescue operations early this morning but they resumed as the weather cleared up after about an hour, official sources said, adding that in view of the MeT department warning of light to moderate rains at places, rescue efforts have been stepped up.
With a number of breached roads now repaired, evacuation process is likely to be quickened as many stranded pilgrims are now being shifted to safer locations through road routes as well, they said.
Indo-Tibetan Border Police Deputy Inspector General Amit Prasad told mediapersons at Gauchar that foot tracks are being built in an area of about 50 kms near Badrinath to evacuate stranded pilgrims.
"This is being done to reduce our dependence on weather, which may hamper air rescue operations. These roads are being built in Mana outpost near the shrine. About 200 ITBP jawans are engaged in the exercise," he said.
About 500 pilgrims may still be stranded at the Jungle Chatti area of Rudraprayag district and efforts are on to evacuate them as early as possible, the ITBP DIG said. Two helipads have been built at Gauri Gaon and Rambada area near Kedarnath.
Disaster management authorities said as the KedarnathValley has been totally cleared of stranded pilgrims, the focus has now shifted to Badrinath where nearly 7,000-8,000 pilgrims are still stuck.
They have been provided with enough food material and medicines, the authorities said.
The toll in the unprecedented tragedy on Saturday rose to 680 with 123 bodies being recovered from Kedarnath area and Chief Minister Vijay Bahuguna saying the casualty figures may touch the 1,000 mark given the massive scale of devastation.
Bahuguna also said the rehabilitation of Kedarnath shrine is a top priority of the government and it will be carried out after taking suggestions from the archaeological survey of India.
He said the bodies being recovered from different places in the state will be disposed of as per traditional rituals and a 'mahayagya' will be held in Haridwar on the 13th day of the tragedy for the peace of the departed souls.
This was suggested by the Sant Samaj when Bahuguna and Union Home Minister Sushilkumar Shinde met them in Haridwar on Saturday.
Gujarat Chief Minister Narendra Modi who met Bahuguna after undertaking an aerial survey of the affected areas on Saturday offered all help to the state government in reconstructing the flood-ravaged Kedarnath shrine into one of the most modern temples in the country.