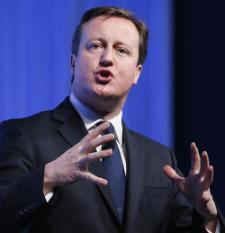 British Prime Minister David Cameron on Monday wrote a passionate column to launch the first new national daily in the UK in 30 years to call for Britain to stay in the European Union.
'New Day', launched by the Trinity Mirror Group, publishers of 'Daily Mirror' and 'Sunday Mirror' newspapers, is the first "standalone daily national newspaper" to be launched in the country.
"The choice is clear: between a greater Britain and the great unknown. I hope readers will choose certainty and prosperity over speculation and risk. Then we can carry on making this great country greater still," Cameron wrote in reference to the referendum on June 23 when the British public will vote on whether to stay in or leave the European Union.
"We need to take the decision that leaves us stronger, safer and better off - and I'm clear that means a decision to stay in a reformed European Union. Those who wish to leave Europe don't have that clarity. They tell you the grass would be greener – but they can't or won't say how," he wrote.
Two million copies of 'New Day' are being distributed free on Monday. From Tuesday, it will cost 25p for two weeks before rising to 50p.
Trinity Mirror Group hopes to sell about 200,000 copies a day.
The editor, Alison Phillips, who previously headed the 'Sunday Mirror' and 'Sunday People' at the group, said the 'New Day' was predicated on an alternative way of thinking about how a newspaper should work.
"Because we've started from scratch, we've thrown out all the previous thinking on how a newspaper should be structured and started with a blank piece of paper. The idea is that this paper should give you in 40 pages everything on any given day in a 30-minute read, without being bombarded with content you don't need," she said.
The newspaper has no dedicated website and has just 25 staff, something the publisher hopes could make it profitable quickly.
It is the first new national paper since the launch of 'i', a slimmed-down version of the 'Independent' which went on sale in October 2010.
However, Trinity Mirror claims it is the first standalone title since the Independent's own debut in 1986.
Simon Fox, chief executive of Trinity Mirror, said,"Over a million people have stopped buying a newspaper in the past two years but we believe a large number of them can be tempted back with the right product".
"Revitalising print is a core part of our strategy in parallel with digital transformation and there doesn't have to be a choice between the two - newspapers can live in the digital age if they have been designed to offer something different," Fox said.
The newspaper describes itself as "upbeat" and "politically neutral".