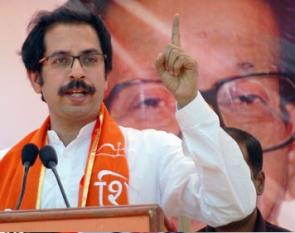 Shiv Sena president Udhhav Thackeray has demanded the dismissal of the resident commissioner of New Maharashtra Sadan in Delhi, Bipin Malik, with immediate effect for allegedly providing poor quality services and food to the state's lawmakers.
"He (Malik) should be sacked from his present post," Uddhav said to a query from reporters here on the incident at New Maharashtra Sadan.
A Shiv Sena MP was caught on a video footage purportedly force-feeding a fasting Muslim employee in New Maharashtra Sadan in Delhi sparking an outrage and a huge uproar in Parliament on Wednesday amid demands for action against its MPs involved in the incident and calls to avoid giving communal tinge.
The incident took place last week as Sena MPs were protesting the quality of food and services at New Maharashtra Sadan in Delhi.
"Even, the Shiv Sena is following Hinduism. We also respect other religions, and our MP Rajan Vichare also expressed his regret over the incident reported in Maharashtra Sadan in New Delhi yesterday," said Thackeray, who arrived in Nashik on Thursday to discuss various issues with party-men in Nashik division.

Image: Shiv Sena President Uddhav Thackeray