Trump denied the allegations and said he would sue the NYT if it reported them.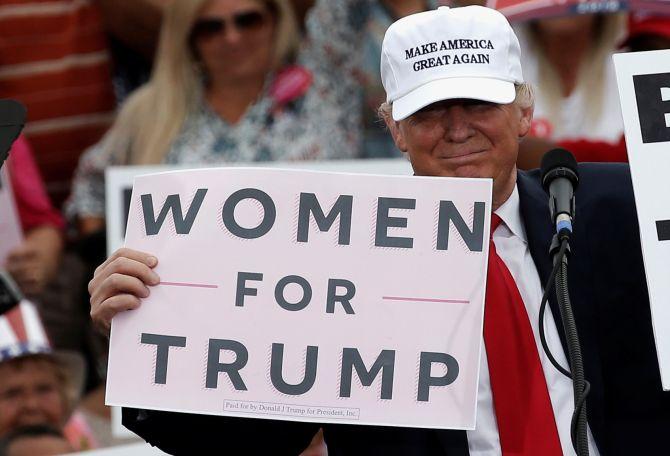 IMAGE: Republican presidential nominee Donald Trump holds up signs at the end of a campaign rally in Lakeland, Florida. Photograph: Mike Segar/Reuters

Five women have accused Republican presidential nominee Donald Trump of sexual assault.
Jessica Leeds, 74, accused Trump of groping her on a plane while Rachel Crooks alleged the Republican nominee kissed her outside an elevator in the TrumpTower when she was a 22-year-old receptionist in 2005.
There was a similar account from another woman in the Palm Beach Post. Former Apprentice contestant Jennifer Murphy and People magazine writer Natasha Stoynoff also levelled similar allegations against him.
The latest accusations against Trump come just days after a 2005 video surfaced of him in which he is talking in lewd and sexually explicit terms about women and bragging about groping women and getting away with it because he was a 'star'.
Leeds was quoted saying by the New York Times that Trump had assaulted her when she was traveling in an airplane more than three decades ago.
She had sat besides Trump in the first-class cabin of a flight to New York and about 45 minutes after take-off, Leeds said Trump, whom she had never met before, lifted the armrest and began to touch her.
According to Leeds, Trump grabbed her breasts and tried to put his hand up her skirt.
'He was like an octopus. His hands were everywhere. It was an assault,' Leeds said, adding that she fled to the back of the plane.
Crooks has also come forward accusing Trump of inappropriate behaviour.
She had worked for a real estate investment and development company in TrumpTower in Manhattan.
She said she had encountered Trump outside an elevator in the building one morning in 2005.
The report said that since Crooks was aware her company did business with Trump, she introduced herself.
They shook hands but Trump would not let go and began kissing her cheeks, she said, adding that Trump then 'kissed me directly on the mouth (sic)'.
She said it didn't feel like an accident but a violation.

He was like an octopus. His hands were everywhere. It was an assault.

'It was so inappropriate. I was so upset that he thought I was so insignificant that he could do that,' Crooks said in the NYT report, adding she was shaken and later called her sister to tell her.
'She was very worked up about it,' said Webb, who recalled pressing her sister for details.
In a phone interview on Tuesday night, a highly agitated Trump denied the fresh claims by Leeds and Crooks, who alleged that Trump kissed her outside an elevator in the Trump Tower.
'None of this ever took place,' Trump shouted at the NYT reporter who was questioning him.
He said the NYT was making up the allegations to hurt him and that he would sue the news organisation if it reported them.
'You are a disgusting human being,' he told the reporter as she questioned him about the women's claims.
Asked if he had ever done any of the kissing or groping as the 2005 recording depicts, Trump said, 'I don't do it. I don't do it. It was locker room talk'.
'No, I have not,' he had said to CNN's Anderson Cooper at the start of debate on Sunday evening.
Leeds said in the report that she wanted to 'punch the screen' when she heard him during the presidential-debate. She felt he was lying to her face when he denied kissing women.
Leeds recalled that she was given a seat next to Trump on the airplane and the two exchanged pleasantries. Trump asked her if she was married and she told him she was divorced.
Later, Trump raised the armrest, moved toward her and began to grope her. Leeds said she recoiled and quickly left the first-class cabin and returned to coach.
'I was angry and shook up,' she recalled.
She said she did not complain to the airline staff at the time because such unwanted advances from men occurred throughout her time in business in the 1970s and early 1980s.
She had largely put the encounter on the plane out of her mind until last year, when Trump's presidential campaign became more serious, the report said.
Mindy McGillivray, 36, told the Palm Beach Post that she was groped by Trump during a party at his Florida property Mar-a-Lago 13 years ago, while Murphy told Grazia that Trump had kissed her on the lips at the end of a 2005 job interview.
In a lengthy account published late on Wednesday night, Stoynoff recalled travelling to Mar-a-Lago to interview Trump and his wife Melania, in 2005. Trump, she claimed, had cornered her in private and 'within seconds, he was pushing me against the wall, and forcing his tongue down my throat'.
The NYT report said accounts by Leeds and Crooks echo those of other women who have previously come forward, like TempleTaggart, a former Miss Utah, who said that Trump kissed her on the mouth more than once when she was a 21-year-old pageant contestant.
'I just start kissing them. It's like a magnet. Just kiss. I don't even wait,' Trump said in the video.
Leeds said she described the events to those close to her more recently as Trump became more visible politically and ran for president.
Leeds had resisted telling her story until Sunday's debate, when Trump denied having ever sexually assaulted women in response to a question from Cooper.
In the days after the debate, Leeds recounted her experience in an email to the NYT and a series of interviews.
'His behaviour is deep seated in his character. To those who would vote for him. I would wish for them to reflect on this,' Leeds wrote in the message.
For Crooks, the encounter with Trump was further complicated by the fact that she worked in his building and risked running into him again.
'I think that what was more upsetting than him kissing her was that she felt like she couldn't do anything to him because of his position,' her then boyfriend Clint Hackenburg said in the report.
'She was 22. She was a secretary. It was her first job out of college. I remember her saying, 'I can't do anything to this guy, because he's Donald Trump',' Hackenburg said.
On reading accounts by other women who have accused Trump of inappropriate behaviour in the months since he announced his presidential campaign, Crooks said she was 'upset that it had happened to other people, but also took some comfort in knowing I wasn't the only one he had done it to'.
'People should know. This behavior is pervasive and it is real,' she said of Trump.
The Trump Campaign in a statement claimed that the entire article is fiction.
"For the New York Times to launch a completely false, coordinated character assassination against Mr Trump on a topic like this is dangerous. To reach back decades in an attempt to smear Mr Trump trivialises sexual assault, and it sets a new low for where the media is willing to go in its efforts to determine this election," said Jason Miller, senior communications advisor of the Trump Campaign.
Miller said it is absurd to think that one of the most recognisable business leaders on the planet with a strong record of empowering women in his companies would do the things alleged in this story, and for this to only become public decades later in the final month of a campaign for president should say it all.

His behaviour is deep seated in his character. To those who would vote for him. I would wish for them to reflect on this.

"Further, the Times story buries the pro-Clinton financial and social media activity on behalf of Hillary Clinton's candidacy, reinforcing that this truly is nothing more than a political attack. This is a sad day for the Times," Miller said.
The Clinton Campaign said that the story fits into the narrative how Trump treats women.
'This disturbing story sadly fits everything we know about the way Donald Trump has treated women. These reports suggest that he lied on the debate stage and that the disgusting behavior he bragged about in the tape is more than just words,' Jennifer Palmieri, Hillary Clinton's campaign communications director said in a statement.
Meanwhile, several women demonstrated outside Trump's campaign headquarters in New York, calling on Americans to reject the Republican presidential nominee, saying promoting and condoning sexual assault by him is 'unforgivable'.
Dressed in black, the multiracial group of more than 80 women blockaded the doors to Trump Tower in Manhattan's famed 5th Avenue on Wednesday and called for a rejection of Trump by the Republican Party, citing decades of anti-women, anti-immigrant, and anti-black policies supported by the GOP.
The women held signs showing a cat baring its teeth, a reference to the lewd word used by Trump in the video. They chanted 'GOP hands off me' and 'Donald thinks he runs this town'.
"It's not about lewd language, it's about promoting and condoning sexual assault," said Nadya Stevens, one of the action's organisers. "It's unforgivable, especially after his racist attacks. As women of all colours, we reject Donald Trump and the GOP (Republican party), and call on the rest of the nation to reject them too."
Brigid Flaherty, who helped organise the protest, said not just Trump but the GOP also has 'attacked women's bodies and access to healthcare for decades'.