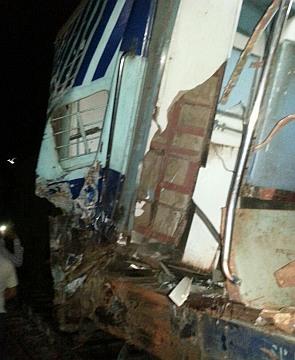 At least 13 persons were killed and 47 injured when a speeding passenger train overshot signal and rammed into another train which was crossing a loop line near in Gorakhpur, Uttar Pradesh on Tuesday night.
Railway officials said the Maduadeeh-Lucknow Krishak Express hit Barauni-bound express train from Lucknow from the side while it was on the loop line at Nandanagar railway crossing, about seven kilometers from Gorakhpur, around 11 pm.
Three coaches of Barauni Express were badly damaged in the collision, Chief Public Relation Officer of North-Eastern Railway Alok Kumar Singh told PTI on Wednesday.
"Thirteen persons, including 11 men and two women, were killed in the accident and 47 others injured," Inspector General (law and order) A Satish Ganesh told reporters in Lucknow.
He said seven of the victims have been identified as Pradeep Rao, 25, Akhilesh Kumar, 21, Aleemuddin, 28, Shatrughan Gupta, 22, Amrita Kumari, 15, Ram Vilas, 50, and Aman Dubey, 19. Efforts were being made to identify other victims.
Singh said the loco pilot of Krishak Express, Ram Bahadur, and assistant loco pilot Satyajeet have been suspended for allegedly overshooting the signal. "Prima facie it appears the Krishak Express was supposed to stop, but it overshot the signal," he said. The train was going towards Lucknow while Barauni Express was coming from the state capital.
The condition of 12 of the injured was stated to be serious, the official said.
"An inquiry has been ordered by the railway under Commissioner Rail Safety P K Bajpai to ascertain the cause of the incident," another spokesman Anil Saxena said.
The CPRO said that Rapid Action Force, Gorkha Regiment and railway police have reached the spot and started the rescue work. The injured have been admitted at different hospitals in Gorakhpur.
The railway has also set up helpline for inquiries for various cities -- Gorakhpur (05513303365, 09794846980), Lucknow (05222233042), Chhapra (09006693233) and Varanasi (09919041978), the spokesperson said.
Movement of trains on Gorakhpur-Varanasi track was disrupted following the incident and few trains have been diverted.
Railway Minister Sadananda Gowda, who visited the accident site, expressed "profound grief" over the loss of lives and announced compensation for the victims.
An enhanced ex-gratia of Rs 2 lakh will be given to the families of the deceased, Rs one lakh for grievously injured and Rs 20,000 for those sustaining simple injuries, a railway official said.