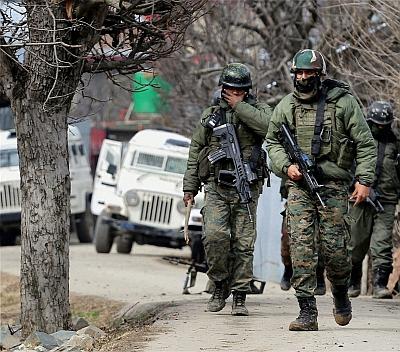 Two Lashkar-e-Tayiba 'commanders' were gunned down on Saturday in an encounter with security forces in north Kashmir's Baramulla district, army said.

Numan and Abu Saad, both foreign nationals, were killed in a gunfight in Thak-Gund village of Sopore, an army spokesman said.

He said that based on input about the presence of foreign terrorists in the village, a joint operation was launched by the army and police to flush them out.

"While the cordon was being readjusted around the suspected house, the security forces received heavy automatic fire and a heavy gunfight ensued.

"By precise firing and without causing any collateral damage, the troops neutralised the two foreign terrorists," the spokesman said.

Two AK-47 rifles, seven magazines, 134 rounds of bullet, one radio set, one GPS device and a large quantity of war-like store were recovered from the possession of the slain terrorists.

Meanwhile, police said the slain terrorists were part of a group of eight who had infiltrated into Kashmir in September 2013.

"Two
of their associates were killed in an encounter in Saidpora area of Sopore last month," a police spokesman said.
He said the duo was active in Lolab, Sogam, Kralgund, Wavoora, Sahipora areas of Kupwara district and Dooru, Watergam, Saidpora, Arampora, Maharjpora, Thagund and Mundji areas of police Sopore.
"They were involved in a spate of violent incidents including IED blast near Watergam in which one army personnel was injured, attack on an Army convoy in Drugmulla area of Kupwara last year, grenade lobbing during parliamentary elections and IED blast on Baramulla-Kupwara highway last year," the spokesman said.
He said they were planning to re-activate LeT base in Sopore and had "devilish designs" to gear up terrorist activities in the township and adjoining areas.
Image: Army personnel move towards the house where two Lashkar-e-Tayiba terrorists were hiding during an encounter at Thak-Gund village in Sopore on Saturday.
Photograph: PTI Photo