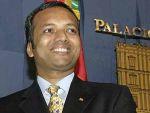 Two senior journalists of Zee news channel were arrested in New Delhi on Tuesday on charges of trying to extort Rs 100 crore from Congress MP Naveen Jindal's group for not doing news reports on coal scam linking his firm.
The arrests on charges of extortion came following the registration of a case about 45 days ago on a complaint filed by Jindal's company with Delhi police's Crime Branch.
Sudhir Chaudhary, the head of Zee News, and Samir Ahluwalia, head of Zee Business, have been arrested, a senior police official said.
Jindal had last month released a CD in which purportedly showed footage in which the Zee journalists were trying to strike a deal with his company officials, telling them that their channel will not air negative stories of Jindal Group if the money is paid to them.
Chaudhary had rubbished the allegations as "fabrication" and described it as "pressure tactics" to prevent the channel from doing such stories.
"We have done a series of stories on coal scam based on official papers. This is a retaliation to our relentless campaign against  corruption," he had said.
Jindal Power and Steel Ltd (JPSL) Chairman Naveen Jindal had earlier claimed that the Zee executives had demanded Rs 20 crore for four years and they secretly filmed the meetings.
They later raised the demand to Rs 100 crore for not broadcasting stories against the company in relation to allocation of coal blocks, he claimed.
JSPL is among the companies named in the CAG report as one of the beneficiaries of the controversial coal block allocations.
In a retaliatory move, Zee News had last month sent a Rs 150 crore defamation notice to the Congress MP, who too had filed a Rs 200 crore case against the media conglomerate claiming the TV channel had tried to extort money from his company.