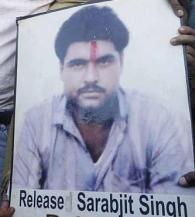 Police on Saturday registered a case of attempted murder against two prisoners for brutally assaulting Indian national Sarabjit Singh, who is in a "deep coma" in a Lahore hospital.
Official sources told PTI that the FIR against prisoners Amer Aftab and Mudassar was registered following a complaint from Assistant Superintendent Ishtiaq Ahmed Gill of Kot Lakhpath Jail.
The two men were booked under sections 324 (attempted murder) and 334 (causing severe injuries) of the Pakistan Penal Code.
Quoting the FIR, a police official said the two prisoners attacked Sarabjit after opening the gate of his barrack in one of the most secure sections of the jail.
The official said another two prisoners, Ehsanul Haq and Muhammad Safdar, had claimed that they had come to save Sarabjit from the attackers.
Aftab and Mudassar are death row prisoners and have been held at Kot Lakhpat Jail since 2009 and 2005, respectively.
Some sources claimed that at least six prisoners were involved in the attack on 49-year-old Sarabjit. The identities of the other prisoners could not immediately be ascertained.
Aftab was sentenced to death after being convicted of murder. He was involved in robberies and other serious crimes.
In a separate development, an inquiry committee headed by Deputy Inspector General of Police Malik Mubashir interrogated all six accused within the jail.
The six prisoners are being held in a special barrack under high security, sources said.
According to the sources, Mubashir will submit his report to provincial and federal authorities later today.
There has been no official word from the jail's administration or the caretaker Punjab government on the incident or Sarabjit's condition.
Doctors at the state-run Jinnah Hospital, where Sarabjit was admitted on Friday, have refused to speak to the media.
Official sources said Sarabjit was in a "deep coma" and had been put on a ventilator.