Sabotage attempts on tracks to derail trains continue to plague the railways with detection of two more such cases on Thursday causing serious concern for safety of rail operation.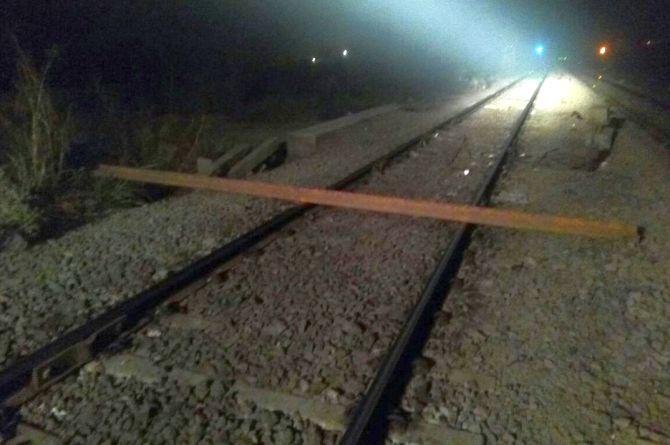 Cases of man-made obstructions were discovered at Malda and Dhanbad divisions by alert railway staff in time, thereby averting major derailments, said a senior railway ministry official.
According to the official, the loco pilot of a passenger train detected fish plates missing between Koderma and Maheshpur under Nawalshahi police station and stopped the train averting accident at Dhanbad division.
Rail traffic was stopped for three hours and an FIR has been lodged in the matter.
In the second incident, fittings were found missing on the track between Bariarpur and Ratanour in Malda division.
After the detection, train movement was stopped and it was resumed only after the replacement of fittings, he said adding an FIR has also been lodged in the matter.
Earlier, a major mishap was averted on January 24 after an alert Jan Shatabdi Express loco pilot stopped the train spotting a 15-feet rail piece on the track in Diwa near Mumbai.
On January 23, another possible train accident was averted at Hajipur in Bihar due to an alert patrolling team of the Railways. Two stone slabs that were placed on the track were detected in time and removed.
Eailway Board Member (Traffic) Mohd Jamshed has also cited 45 such cases involving outside interference on the track affecting train movement and causing loss of lives and revenue.
Taking note of the spurt in derailments Chairman Railway Board AK Mital had said on Monday "There is a substantial increase in the derailment case this year as compared against the same period last year and it is a serious concern for us."
The National Investigation Agency will probe the sabotage angle in the recent train derailments in Uttar Pradesh's Kanpur and Andhra Pradesh's Kuneru area.
The agency has taken over the probe in these cases following an order from the home ministry, official sources said.
An NIA team has already conducted an inspection of the site in Vizianagaram near Kuneru where Jagdalpur-Bhubaneswar Hirakhand Express went off the track to ascertain if it was an "act of terror" as the railway suspected sabotage. 39 people were killed in the accident that took place on Saturday.
The role of Pakistan's snooping agency Inter-Services Intelligence in the derailment of Indore-Patna train on November 20 last year in Kanpur in which 150 people lost their lives is also being looked into.
Three persons arrested by Bihar Police in this connection had claimed sabotage by the ISI.
However, the NIA has found no evidence or input to this effect during its preliminary probe.
IMAGE: An iron block found on rail track in Maharashtra's Diwa near Mumbai.