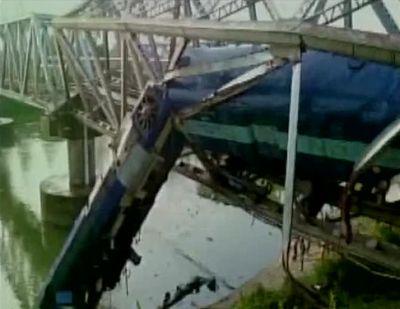 Five coaches and the engine of a passenger train derailed in Kokrajhar district of Assam in the early hours on Saturday, seriously injuring its engine driver and causing minor injuries to some passengers.
There were few passengers in the train today being a government holiday and it the accident occurred very early in the morning.
Northeast Frontier Railway spokesman Jayamta Sarma said that the accident occurred between Salakati and Basugaon at 5.15 am as the 55753 UP Sifung passenger train was about to negotiate a bridge. An accident relief train was immediately rushed to the site with all equipment and medical help. There was no casualty. The four persons including driver and the assistant driver who received minor injury were referred to hospital.
All the passengers of the train coming from Alipurduar in Bengal to Guwahati were transhipped from the accident site, Sarma said.
While the engine driver was admitted to hospital, the passengers with minor injuries were given first aid, the spokesman said.
Though no long-distance train has been cancelled due to the accident, following ten local trains were cancelled : New Jalpaiguri – Dekargaon passenger, Fakiragram – Kamakhya passenger, New Jalpaiguri – New Coochbehar special , Dhubri – Fakiragram passenger, Guwahati- Alipurduar passenger, Kamakhya –Dhubri passenger, Fakiragram – Dhubri passenger , Sighat – Dhubri Rajyarani Express, New Coochbehar – New Jalpaiguri special, Kamakhya – Alipurduar Intercity express.
With inputs from PTI