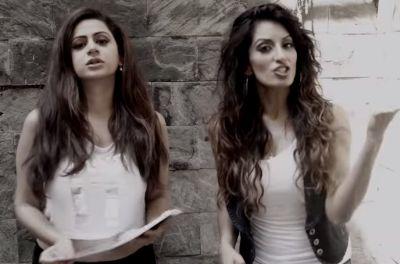 Mumbai women Uppekha Jain and Pankhuri Awasthi have posted a video of themselves on YouTube, labelling it 'Bombbaebs' #Rap Against Rape', that has gone viral on social media.
The video is about the issues women face in India and starts with a disclaimer stating that the video doesn't have any explicit content, but says, "It's just that the reality for women in India is Explicit."
The 'Bombbaebs' video comes after a Delhi University student took on Honey Singh with a rap that criticised his misogynistic lyrics.
Watch the video here
While some have applauded the video, others have criticised it saying that women are just trying to be 'YouTube celebrity with their foreign accent.'
The two women are seen holding placard in the video, with words such as #DomesticViolence, #misogyny, #rape and #slut, while they rap. They even slam the defence lawyers of the Delhi gang-rape accused, while explaining how women are treated in this country.
"We're not rappers - no. We're just a couple of girls tryin' to open your eyes," say the women in the video.