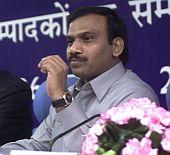 Former telecom minister A Raja, who has expressed his willingness to appear before the Joint Parliamentary Committee on 2G spectrum as a witness, could be asked to submit his stand in writing instead of deposing personally before the panel.
Sources in the JPC said that panel Chairman P C Chacko is set to tell Raja that instead of appearing before JPC as a witness, he can submit a "rebuttal note" on the statement made by Attorney General G E Vahanvati before the Committee that the controversial press note regarding 2G licences was changed at the last minute by the former telecom minister in 2008 with a different pen.
Vahanvati was then the Solicitor General.
Raja's note could form part of the JPC proceedings after being circulated to members.
Chacko is apparently against calling Raja as a witness. He has told members that as an accused Raja has legal protection and cannot make fresh revelations before any committee. Therefore, there was no point in calling Raja.
Raja, a prime accused in the 2G spectrum allocation scam case, had recently made a strong pitch to appear before the JPC as a witness after Vahanvati blamed him for various issues before the panel.
He has also been blamed for the 2G scam by other witnesses before the special CBI court.
"The truth of the matter is being suppressed on the basis of preconceived notions, deliberate bias, faulty investigation and erroneous conclusions.
"...perhaps the most telling example of this situation is the judgement of the Hon'ble Supreme Court dated 02.02.2012, where specific and prejudicial observations were made against me without giving me a hearing," Raja had written in a letter to Speaker Meira Kumar last month.