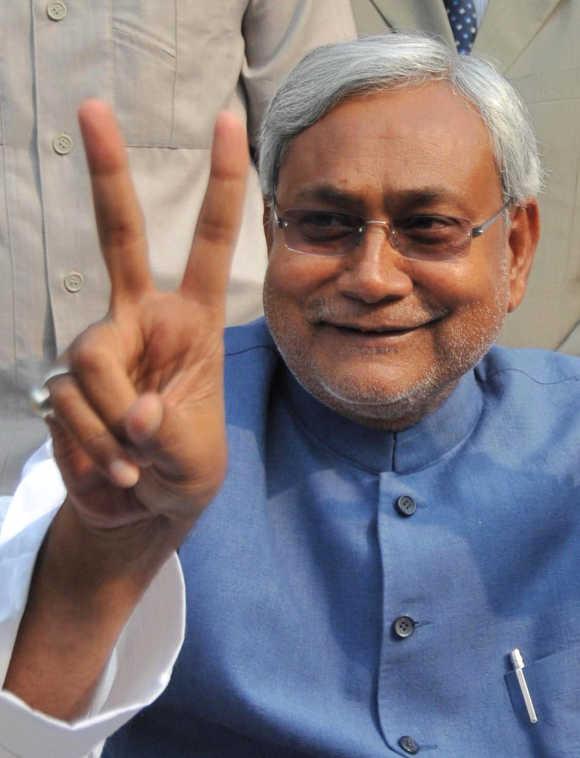 After being denied a ticket to contest the Bihar polls, two Bharatiya Janata Party Members of Legislative Assembly Aman Kumar Paswan and Ajay Mandal met senior Janata Dal-United leader and Chief Minister Nitish Kumar on Wednesday.
They may join the JD-U to contest polls. Both Paswan and Mandal are sitting BJP MLAs.
Paswan has accused senior BJP leader and former union minister Shahnawaz Hussain for denying a party ticket to a sitting legislator.
"Hussain is responsible for denial of party ticket to me .I would like to caution the party that Hussain will destroy the party in Bhagalpur," "Paswan told the media.
Paswan said his meeting with Nitish was positive.
"Till date I have not been denied a party ticket, but reliable sources in the party informed me that my name was deleted from the list of probable candidates. I am sure and certain that the BJP will deny me a ticket, so I met the chief minister," Mandal said
According to BJP sources, the five party legislators who were denied ticket are unhappy and likely to switch their loyalty to other parties. Thye BJP released its first list of 43 candidates on late Tuesday night in Delhi.
The BJP is contesting 160 of 243 assembly seats and has given 83 seats to its
three allies – the Lok Janshakti Party (40) the Rashtriya Lok Samta Party (23) and the Hindustani Awam Morcha (20) seats.