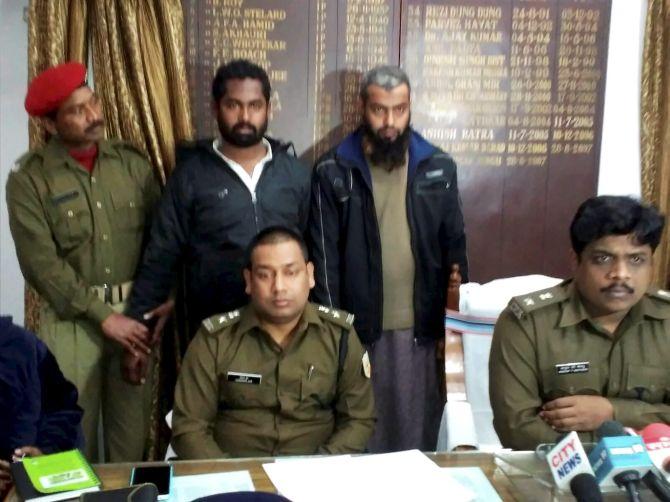 Two Al Qaeda operatives, believed to be members of its sleeper cell and motivating youths to join the terror group, were arrested from steel city Jamshedpur on the eve of Republic Day.
East Singhbhum district police arrested Ahmed Masood Akram Sheikh alias Masood alias Monu from Dhatkidih, while Nasim Akhtar alias Raju was nabbed from Road No 6, Zakirnagar, Old Purulia Road, Senior Superintendent of Police Anoop T Mathew said.
The two are members of Al Qaeda's sleeper cell and motivate youths of the steel city as well as other parts of Jharkhand to join and expand the organisation, he said.
The police picked up 35-year-old Masood following inputs provided by Jamshedpur-based Abdul Sami, who was arrested by the Delhi police special cell from Mewat in Haryana last week.
Masood confessed that he had been linked with the terrorist group since 2003 after he was motivated to join it by Abdul Rehman Katki, who had been arrested by the Delhi police from Cuttack in December.
He told the police that he had first met Rehman, a frequent visitor to Jamshedpur, at the Jama Masjid at Sakchi in 2003 and was influenced by him to join the terrorist organisation.
Masood had visited Saudi Arab in 2011 and met Sami on his return and convinced him (Sami) to join the group. He also played a crucial role in sending Sami to Pakistan for terrorist training, Mathew said.
Masood, he said, had also confessed to the police that he had one more operative in his cell but claimed knew him only by face and that he too had received terrorist training in Pakistan.
Search is on for the operative, Mathew added.
Mathew said Masood has disclosed the names of few others persons, who were motivated and were in constant link with him and the police is investigating into it.
The SSP said Akhtar was a criminal-cum-arms supplier who was influenced by Masood and agreed to deliver a consignment of arms procured from Munger in Bihar to a man in Bengaluru.
Mathew said he told the police that he was not known to the person he delivered the arms and ammunition at Bengaluru station a few months ago. He claimed that after delivering the arms he had immediately taken a bus to Chennai.
Further interrogation was on and if necessary the district police will seek remand of Sami for joint questioning with the two operatives arrested on Monday.
Police has registered a case against Masood under various sections of the Indian Penal Code, Arms act, Unlawful Activities (Prevention) Act and 7 Criminal Law Amendment Act.
Mathew said a special team led by deputy superintendent of police Jacinta Kerketta seized a 9 mm pistol, five live cartridges of 9mm bore, one mobile phone, Jehadi literature in English and Urdu, memory card and newspaper clippings related to terrorism from Masood's house at Dhatkidih.
A country-made pistol, one live cartridge and mobile phone were seized from Akhtar's possession.
Police seized Sami's passport from his residence at Kapali in adjoining Seraikela-Kharswan district.
The passport was made here in the address of the Kapali house in 2009 and per the per entry in it Sami had visited Saudi Arab in 2014 and Malayasisa ten months later but no mention of his visit to Pakistan, Mathew added.
Image: Two suspected terrorists of Al Qaeda arrested by the police in Jamshedpur on Monday. Photograph: PTI Photo