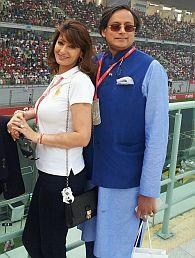 Political leaders and celebrities, including Union Minister Kapil Sibal, Jammu and Kashmir Chief Minister Omar Abdullah and filmmaker Karan Johar, have condoled the death of Sunanda Pushkar whose body was found at a five-star hotel in New Delhi.
"Terrible terrible news coming in about Sunanda Tharoor," Omar Abdullah tweeted.

Communications Minister Kapil Sibal said, "deeply shocked to hear about Sunanda. My heartfelt condolences to my friend and colleague Shashi Tharoor and their family."
His cabinet colleague Milind Deora said, "Very, very shocking & sad. My heartfelt condolences to her family & loved ones."
Entrepreneur Raj Kundra, husband of Bollywood star Shilpa Shetty, said: "She was a good lady and didn't deserve to go like this. God bless her soul."
Karan Johar expressed described Sunanda's death as "tragic".
Actor Dia Mirza said, "Such a lively, friendly and warm person. Heartfelt condolences @ShashiTharoor"
Industrialist Naveen Jindal said "extending our deepest condolences to the family and loved ones of Sunanda Pushkar Tharoor. Hard to accept she is no more with us #RIP"
Industrialist Vijay Mallya said, "Shocked. Just met her over new year's. Vibrant as always. RIP Sunanda Tharoor."
Founder of the Indian Premier League and Champions League T20 Lalit Modi said it was "shocking and extremely sad news about Sunanda".
BJD leader Baijayant 'Jay' Panda tweeted "shocked to hear of Sunanda Pushkar Tharoor's untimely death! May God rest her soul in peace…"

"I was completely shocked and could not believe it," said actor Anil Kapoor.
Singer Sonu Nigam said it was unbelievable that a person like her has left like this and actor Anupam Kher said "...she is not a person, who will kill herself."
Film producer Kunal Kohli said "it's disturbing what social media can lead through....We have to see what is going on in our society and where social media is taking us to."
Ishaan, one of the twin sons of Shashi Tharoor and a journalist with the Time magazine, asked for privacy.

He tweeted, "I would request that everyone please respect our family's privacy at this moment."
His brother Kaniskh retweeted Ishaan's tweets and asked for more privacy to the family.
Congress MP Priya Dutt tweeted "cant believe she is no more. Sunanda was vivacious and her positivity was infectious. May her soul rest in peace. Strength to shashi."
Leader of the Opposition in the Delhi assembly and senior BJP leader Harsh Vardhan offered his condolences to the family. He tweeted, "Sunanda Pushkar Tharoor dead. Sad news. Myheartfelt condolences to her son and Mr ShashiTharoor. May her soul rest in peace."
Writer Taslima Nasreen tweeted, "Whoever is the culprit, it is always the woman who dies at the end. #Sunanda"