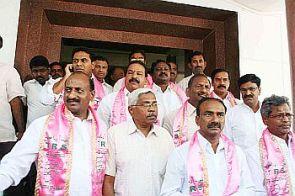 Twenty five legislators belonging to Telangana Rashtra Samiti and YSR Congress were suspended from the Andhra Pradesh Assembly on Wednesday for constantly disrupting proceedings over different issues.
BJP MLAs staged a walkout from the House protesting the government's refusal to adopt a resolution on the Telangana issue.
The House met for an evening session today to take up government bills but trouble began immediately as TRS MLAs persisted with their demand for a resolution on Telangana while YSRC members wanted a discussion on allotment of land to IMG Bharata sports academy by the erstwhile Telugu Desam Party government.
The House witnessed sloganeering by YSRC and TDP members leading to adjournment of proceedings for half an hour.
As TRS and YSRC legislators continued to create a din when the House re-assembled, the Speaker named the members (13 from TRS and 12 from YSRC) and a motion was moved for their suspension for the day.
TDP deputy leader P Ashoka Gajapati Raju registered a protest and accused the government of failing to run the House effectively.
Another deputy leader of TDP Gali Muddukrishnama Naidu alleged that both Congress and YSRC conspired to raise the IMG Bharata issue only to escape from discussing issues of public concern.
Communist Party of India, CPI-Marxist and Majlis-e-Ittehadul Muslimeen legislators too registered their protest and expressed anguish over the way in which the House was running.
Earlier in the day, the House remained in pandemonium as TRS and YSRC members disrupted proceedings on their respective demands.
Three adjournments later, Deputy Speaker Mallu Bhatti Vikramarka, who was in the Chair, ran through the process of moving different bills and adjourned the House till evening.
TDP too staged a walkout from the House.