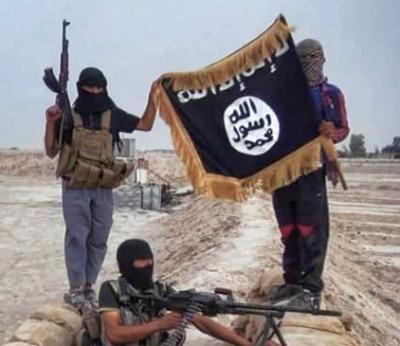 A 21-year-old Kashmiri man, who was allegedly trying to join the terror group Islamic State, has been deported from Turkey to India after being picked up by Turkish authorities, official sources Srinagar said on Monday.
Srinagar resident Afshan Parvaiz was deported from the Turkish capital of Ankara on May 25 and whisked away to an undisclosed destination by security agencies in Delhi, the sources said.
He was being assessed by various security agencies, they said.
Parvaiz had left home after an argument with his father, who wanted him to join a college while the son was interested in religious studies, the sources said.
They said he booked himself a seat on a flight to Teheran on March 23. He was scheduled to return to Delhi on April 9 after exploring avenues for religious studies in Europe, they said.
The Kashmiri man, who is the second person to be deported from Turkey in the last two months, apparently sent a message to his family to tell them that he was facing some 'problems', the sources said.
When the police and other agencies in Kashmir were informed about this, a probe was launched to locate him, they said.
According to the sources, the security agencies then got in touch with their Iranian counterparts, who found out that Parvaiz was travelling to Ankara.
The authorities in Ankara were contacted and he was picked up while he was travelling in a bus in the Turkish capital, they said.
He was sent to India on May 25 by a Turkish Airlines flight, the sources said.
In March, Mohammed Taha, a resident of Srinagar, was deported from Turkey and sent to India. He has been put in preventive custody, they said.
Security agencies in India have viewed their alleged plans to join the IS with concern. They believe that some Kashmiri youths are getting radicalised by 'jihadi' propaganda material shared by the IS on the Internet.
The agencies feel that if the growing influence of the IS is not checked, it can be detrimental to the situation in the Valley.
Recently, an audio clip had surfaced on social media sites in which Hizbul Mujahideen (HM) terrorist commander Zakir Moosa could be heard talking about establishing an Islamic caliphate in the Valley.
The police had carried out an analysis of the clip, comparing the voice with that of Moosa's in earlier videos and audios.
The 5.40-minute audio warned Kashmir's separatist leaders against interfering in the HM's plan to establish a caliphate as the IS has done in parts of Syria and Iraq.
The call for a caliphate is being seen as a worrying twist to militancy in Kashmir, which has largely revolved around a demand for independence or secession to Pakistan, without an overtly religious subtext.
During the recent protests in the Valley, IS flags were waved in certain areas, and slogans supporting the terror group were painted on walls.
However, Hizbul Mujahideen leader Syed Sallahuddin had said there was no place for groups such as the IS, Al Qaeda or the Taliban in Jammu and Kashmir.