Tunisia is on a manhunt for the third attacker in the Bardo Museum in Tunis last week that left more than 20 people dead.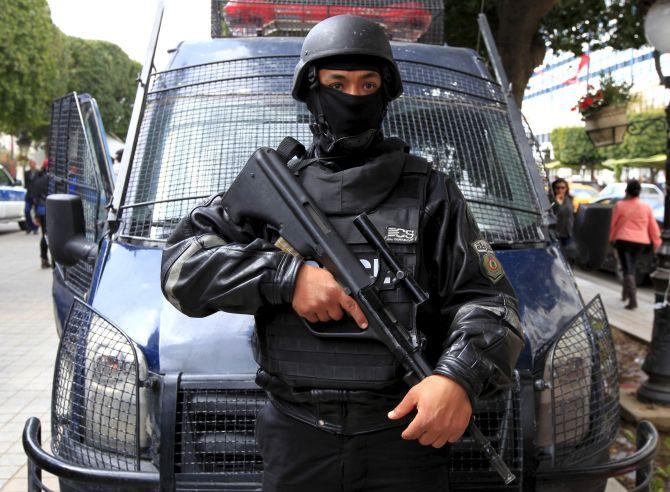 A Tunisian policeman stands guard at Bourguiba Avenue in the capital of Tunis, days after the attack. Photograph: Anis Mili/Reuters
Tunisia's president said in a live TV interview on Sunday that a third attacker is still "on the run" and that there were "certainly three attackers... there is one who is on the run, he won't get far," president Beji Caid Essebsi said on Sunday.Two of the assailants were shot dead during the attack.
Around 20 suspects have been arrested in connection with the attack but just two gunmen were initially thought to have assaulted the museum.
Hundreds of people gathered for a mass in the cathedral in Tunis on Saturday, lighting candles to remember the victims, who included three Tunisians, in a ceremony attended by government ministers.
Outside, there was a heavy police presence along the central Habib Bourguiba boulevard.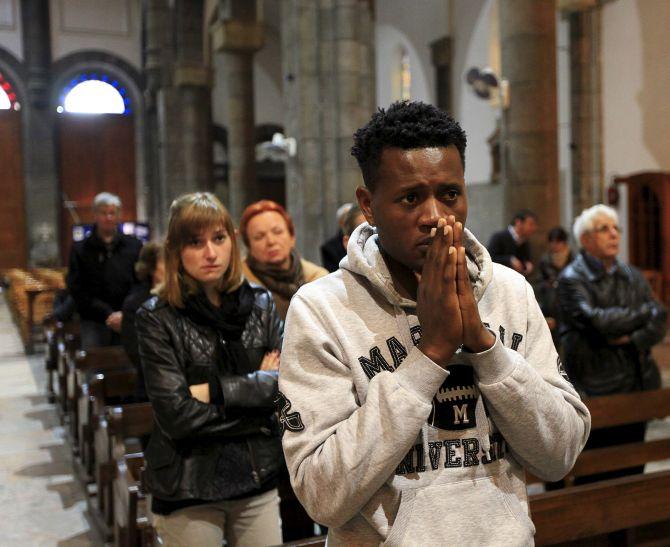 Believers attend a mass held for victims of the Bardo museum attack, at Cathedral of St Vincent de Paul in Tunis. Photograph: Anis Mili/Reuters
Wednesday's assault, the deadliest involving foreigners in Tunisia since a 2002 suicide bombing on the island of Djerba, came at a fragile moment for a country just emerging to full democracy after a popular uprising four years ago.
The government said the two gunmen had trained in jihadi camps in Libya before the attack at the Bardo museum inside the heavily secured Tunisian parliament compound.
Japanese, French, Polish, Italian and Colombian visitors were among the victims.