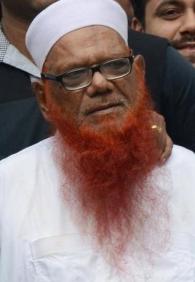 Top Lashkar-e-Tayiba bomb expert Abdul Karim Tunda was today remanded to 10-day police custody by a Delhi court in connection with a 1997 bomb blast case lodged against him in New Delhi.
The special cell of the Delhi police produced Tunda before Metropolitan Magistrate Akash Jain after expiry of his police custody remand in connection with another case in which he is accused of allegedly helping Pakistani nationals illegally enter India.
It said that they did not need Tunda's further custodial interrogation custody in the case of illegal infiltration but needs to quiz him in the 1997 bomb blast case.
The police told the court that Tunda was earlier declared as a proclaimed offender in the 1997 Sadar Bazar blast case and they need his sustained custodial interrogation to unearth the entire conspiracy leading to the terror attack.
Thirty people were injured in two blasts near a procession in the Sadar Bazar area on October 1, 1997. The police said they need to interrogate Tunda to know about other conspirators who were part of the conspiracy which led to the blast.
"The accused (Tunda) is remanded to police custody remand for 10 days for his sustained interrogation and for unearthing the links of conspiracy and links of accused with terrorist organisation and financiers as well," the court said.
Seventy-year-old Tunda was arrested from the Indo-Nepal border at Banbasa on August 16. He was earlier remanded to police custody for questioning in connection with 37 bomb blast cases across the country.
On September 7, Tunda was remanded to four-days police custody for unearthing the source of explosives which were provided to Pakistani nationals arrested in 1998 in connection with 37 bomb blasts.
The police had told the court that the blasts had taken place in 1997 in Delhi and adjoining areas and 20 cases had been registered.
Tunda had been declared a proclaimed offender in a case in which special cell had arrested three suspected terrorists -- Aftab, Abdul Haq and Abdul Wahid -- on January 17, 1994, for allegedly planning terror strikes in the national capital during Republic Day.
Another case against him, lodged in 1994, is in connection with the recovery of explosive substances at south Delhi's Malviya Nagar under the provisions of the stringent anti-terror law, Terrorist and Disruptive Activities.
Tunda is one of the 20 terrorists India had asked Pakistan government to hand over after the 26/11 Mumbai terror attacks. He is suspected to be involved in 40 bombings in the country. He is the first on the list to be arrested.
The police had earlier said that during his earlier custodial interrogation, Tunda had spoken about his involvement in the Malviya Nagar case, which was lodged in 1998.
They had told the court that two Bangladeshi nationals -- Abdul and Mati-ur-Rehman -- were arrested on February 27, 1998 and one hand grenade each was recovered from them besides other incriminating material.
During interrogation, they had admitted to their involvement in various terror strikes and said it was Tunda who had helped them infiltrate into India.
Eleven others, including various Pakistani nationals, were also arrested. They are Mohd Amir Khan, Mohd Shakeel, Abdul Baqi, Abdul Rehman, Maqsood Ahmed, Mohd Azaz, Mohd Husain, Himam Sheikh, Mohd Umar, Mohd Safiqul and Abdul Qasim.