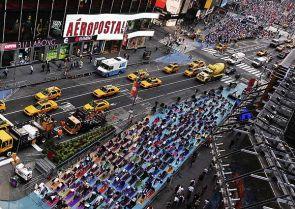 Chechen-born Tsarnaev brothers had plans to attack the iconic Times Square in New York after they shocked the US by twin blasts in Boston last week that killed three persons and wounded more than 200 others.
New York City Mayor Michael Bloomberg and City Police Commissioner Ray Kelly said the Tsarnaev brothers -- Tamerlan and Dzhokhar -- had additional explosives with which they were planning to create havoc at the crowded Times Square.
The information was obtained by the FBI during the interrogation of Dzhokhar, 19, who was arrested by the police at a Boston neighborhood last Friday. His elder brother was killed in a police exchange of fire last week.
"Last night, we were informed by the FBI that the surviving attacker revealed that New York City was next on their list of targets. He told the FBI, apparently, that he and his brother had intended to drive to New York and designate additional explosives in Times Square," Bloomberg told reporters at a crowded news conference in New York.
"They had built these additional explosives, and we know they had the capacity to carry out the attacks," he said.
Police foiled the alleged plan by killing Tamerlan in a shootout and arresting Dzhokhar last week.
If, God forbid, they had arrived in New York City and gone to Times Square, one thing for sure, they would have seen an enormous police presence, but they would not have seen extensive networks of cameras that are part of the security initiative to help police identify suspicious movements, such as packages left unintended on the streets, the Mayor said.
According to the Police Commissioner Kelly, Dzhokhar, who was captured alive, initially told investigators that he and his brother decided after the Boston bombings that would go to New York City to "party." But they quickly changed their mind.
"A subsequent questioning of Dzhokhar revealed that he and his brother decided spontaneously on Times Square as a target. They would drive to Times Square that same night. They discussed this while driving around in a Mercedes SUV that they had hijacked after they shot and killed an MIT police officer in Cambridge, Dzhokhar said," Kelly told reporters.
That plan, however, fell apart when they realised that the vehicle that they hijacked was low on gas and ordered the driver to stop at a nearby gas station. The driver used the opportunity to escape and call the police.
That eventually led to the shootout in Watertown, where the older brother was killed in an exchange of gunfire with the police, Kelly said on Thursday.
Up until that point, the two brothers had at their disposal six improvised explosive devices.
One was a pressure cooker bomb, similar to the two that had exploded at the marathon. The other five were pipe bombs.
"We know that Dzhokhar was photographed in Times Square with friends on or before April 18th of 2012, and that he was in the city again in November of 2012. We don't know if those visits were related in any way to what he described as the brothers' spontaneous decision to target Times Square," Kelly said.
He said the New York Police Department intelligence division is actively investigating to determine Dzhokhar's movements in the city, as well as who he might have been with in New York.
"New York City detectives and supervisors assigned to the Joint Terrorist Task Force with the FBI are assisting in the ongoing investigation in both Boston and New York. There's no evidence at this time, however, to indicate that New York City is currently a target of another terrorist attack stemming from the Boston bombings," he said.
In 2010, a Pakistani-American citizen, Faisal Shahzad, was arrested for attempting to bomb the Times Square. He was later convicted and sentenced to life imprisonment.
Image: New York's Times Square
Credit: Reuters