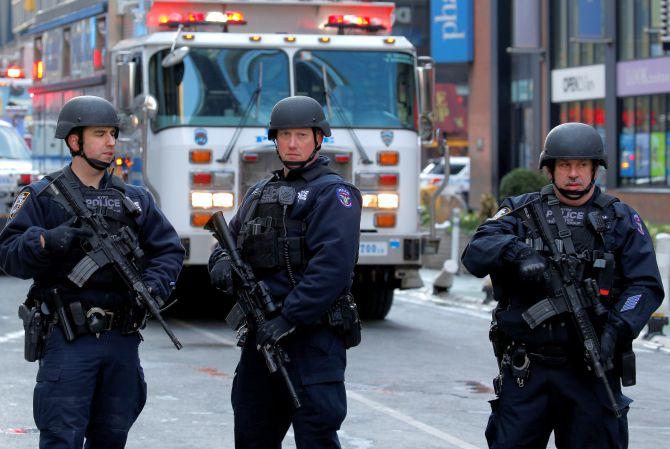 "Trump you failed to protect your nation," the Islamic State-inspired Bangladeshi-origin man wrote on Facebook before detonating a pipe bomb in a Manhattan subway station, according to a complaint filed in a United States court.
Akayed Ullah, the 27-year-old suspected bomber, had wires and a pipe bomb strapped to his body. The device exploded prematurely on Monday between two subway platforms near Port Authority, which is America's largest bus terminal.
Ullah is reported to be in a serious condition in hospital after suffering burns in the explosion. Three other people suffered minor wounds in the blast during rush hour.
The suspect posted a statement indicating allegiance to IS on Facebook before the attack.
"Trump you failed to protect your nation," accused Ullah wrote on Facebook.
On his Facebook page, Ullah also posted a statement that he believed would be understood by members and supporters of the Islamic State to convey that he carried out the attack in the name of IS.
A passport in the name of Akayed Ullah with multiple handwritten notations, including: "O AMERICA, DIE IN YOUR RAGE," was also recovered from his home.
The suspect was taken into custody after the device partially exploded.
Ullah has been charged on five counts, including providing material support and resources to terrorist organisations, use of weapons of mass destruction, bombing a place of public law, destruction of property by means of explosive and use of destructive device.
The pipe bomb comprised of a metal pipe, which Ullah filled with explosive material that he created. He used Christmas tree lights, wiring, and a nine-volt battery to cause the detonation of the pipe bomb.
Ullah filled the pipe bomb with metal screws, which he believed would cause maximum damage. He used zip ties to secure the pipe bomb to his body.
Based on preliminary investigation, federal prosecutors said Ullah carried out the December 11 attack in part because of the US government's policies in, among other places, the Middle East.
One of his goals in carrying out the December 11 attack was to terrorise as many people as possible. He chose to carry out the attack on a workday because he believed that there would be more people, the chargesheet said.
Federal prosecutors said Ullah's radicalisation began around 2014 when he started viewing pro-IS materials online, including a video instructing, in substance, that if supporters of IS were unable to travel overseas to join IS, they should carry out attacks in their homelands.
He began researching how to build IEDs on the internet approximately one year ago.
Image: Police officers stand guard outside the New York Port Authority Bus Terminal after the explosion. Photograph: Lucas Jackson/Reuters