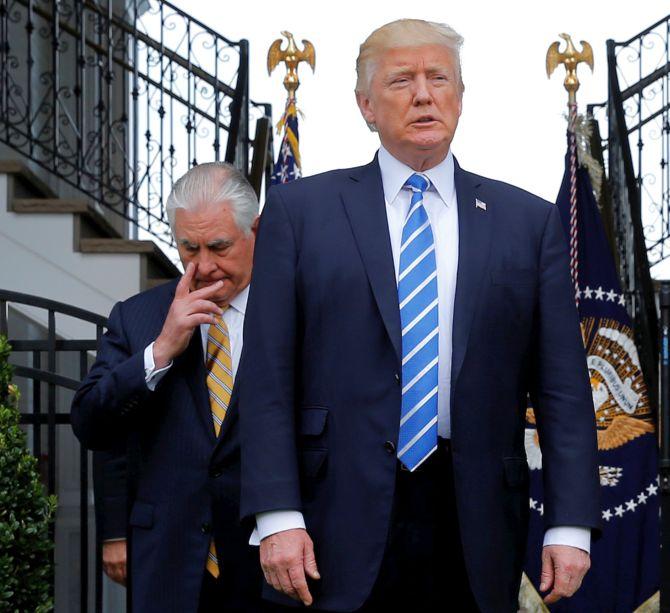 United States President Donald Trump on Saturday warned of a military action against Venezuela in response to its president Nicolas Maduro's power grab, describing the situation in the country as a "very dangerous mess".
Protests rocked the streets of Caracas and other Venezuelan cities after a July 30 vote that allowed Maduro to replace the opposition-dominated National Assembly with a new 545-member Constituent Assembly filled with his supporters.
The Trump administration has called Maduro a "dictator" and issued sanctions against him and more than two dozen other former and current officials, accusing Maduro's government of violating human rights and undermining the country's democracy.
"We have many options for Venezuela. And by the way, I'm not going to rule out a military option. We have many options for Venezuela," Trump said after a meeting with his Secretary of State Rex Tillerson, Ambassador to the United Nations Nikki Haley and National Security Advisor H R McMaster.
"This (Venezuela) is our neighbour. You know, we're all over the world. And we have troops all over the world in places that are very, very far away. Venezuela is not very far away. And the people are suffering. And they're dying. We have many options for Venezuela, including a possible military option if necessary," Trump said.
Venezuelan Defence Minister Vladimir Padrino described Trump's remarks as an "act of craziness" and "supreme extremism".
Earleir in a statement, the White House said Trump refused a phone call from Maduro.
"Since the start of this administration, President Trump has asked that Maduro respect Venezuela's constitution, hold free and fair elections, release political prisoners, cease all human rights violations, and stop oppressing Venezuela's great people," White House Press Secretary Sarah Sanders said.
"The United States stands with the people of Venezuela in the face of their continued oppression by the Maduro regime. President Trump will gladly speak with the leader of Venezuela as soon as democracy is restored in that country," Sanders said.
On Friday said, Pentagon spokesman Eric Pahon said the Defence Department has not been ordered to make any military movements related to Venezuela -- but is prepared for that if need be.
Image: US President Donald Trump, trailed by Secretary of State Rex Tillerson, arrives to speak to reporters after their meeting at Trump's golf estate in Bedminster, New Jersey. Photograph: Jonathan Ernst/Reuters