Bush and Obama were kind; Trump couldn't care less.
United States President Donald J Trump flew into Texas to survey the devastation caused by Hurricane Harvey.
Unlike his predecessors, Trump chose not to meet with victims of the catastrophe, preferring to be briefed instead by government officials and attending a political rally where he boasted about the crowd he had attracted.
When Hurricane Katrina wrecked Louisiana, Mississippi and Alabama, even though he was criticised for his administration's tardy response, George W Bush was on the ground consoling victims.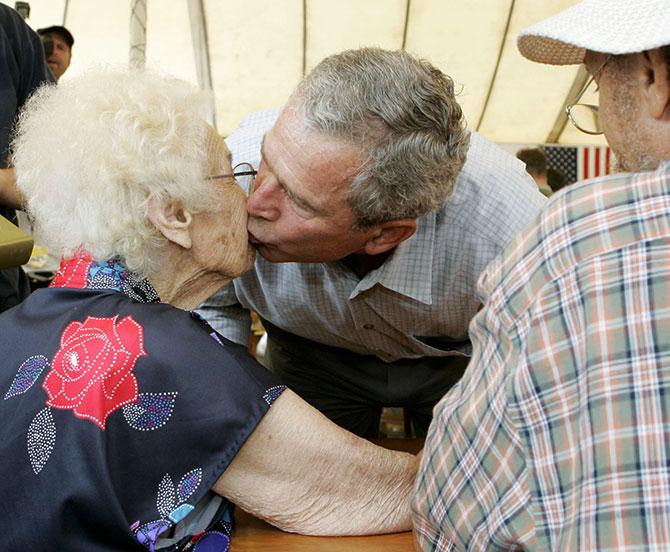 IMAGE: George W Bush kisses Helen Dedeaux, 94, while visiting Hurricane Katrina's victims in Gulfport, Mississippi, September 12, 2005.
Bush was visiting the area for the third time since the hurricane slammed into Louisiana, Mississippi and Alabama.
About 1 million people from Louisiana, Mississippi and Alabama were displaced by the August 29, 2005 storm and many families were separated.
Photograph: Larry Downing/Reuters
When Hurricane Sandy ravaged New York and New Jersey states in 2012, Barack Obama put his presidential re-election campaign on hold and focused on providing relef to the victims.
Obama thumped Mitch Romney in the election, a result that was partly attributed to his strong handling of the Sandy disaster.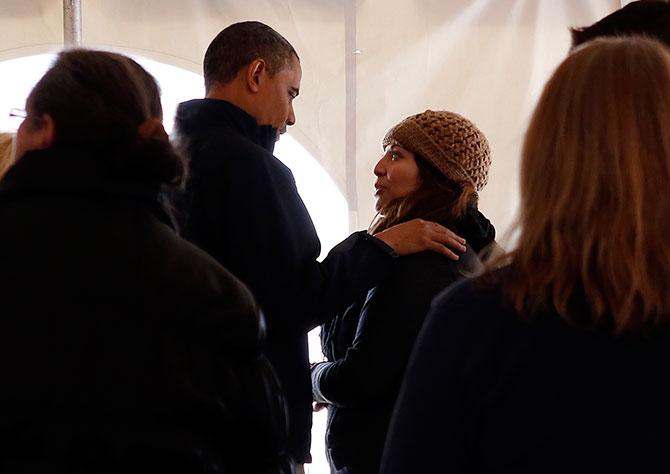 IMAGE: Barack Obama meets with residents affected by Hurricane Sandy at a Staten Island disaster recovery centre in New York, November 15, 2012.
Obama visited areas of New York still without power, 17 days after Superstorm Sandy tore across the Eastern seaboard, showing his ongoing concern for victims of the storm even as his administration turns to budget and international challenges.
Photograph: Kevin Lamarque/Reuters
Few expected Trump's response of the Harvey tragedy to be competent, but his refusal to meet with the victims must surely mark the nadir of his nascent presidency.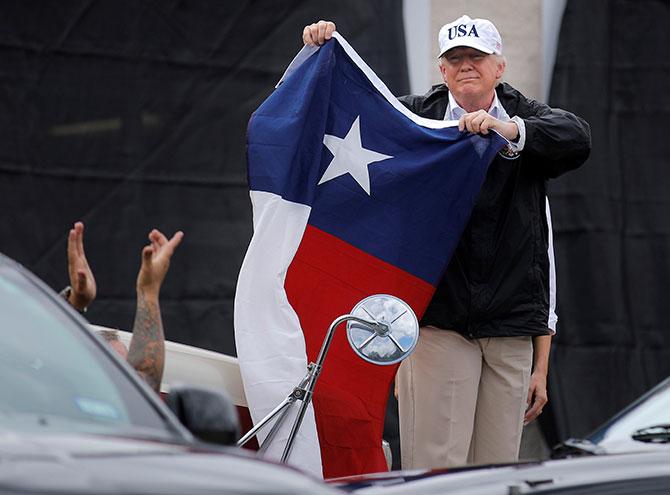 IMAGE: Donald Trump holds a flag of the state of Texas after receiving a briefing on Harvey relief efforts at a fire station in Corpus Christi, Texas, August 29, 2017. Photograph: Carlos Barria/Reuters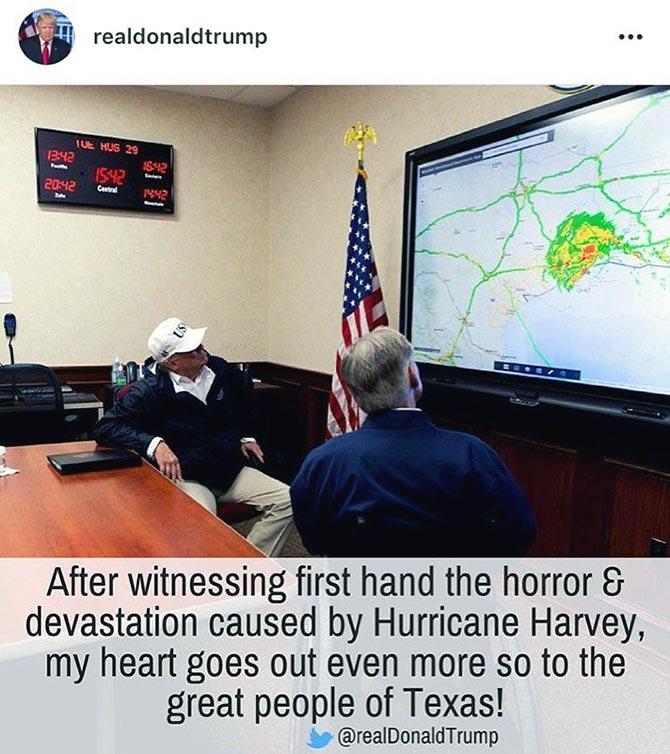 IMAGE: Trump tweeted this image and post after his visit to Corpus Christi, Texas.
'This is the best photo they could find for "witnessing first hand",' Ashley Feinberg, a young designer, tweeted in response.