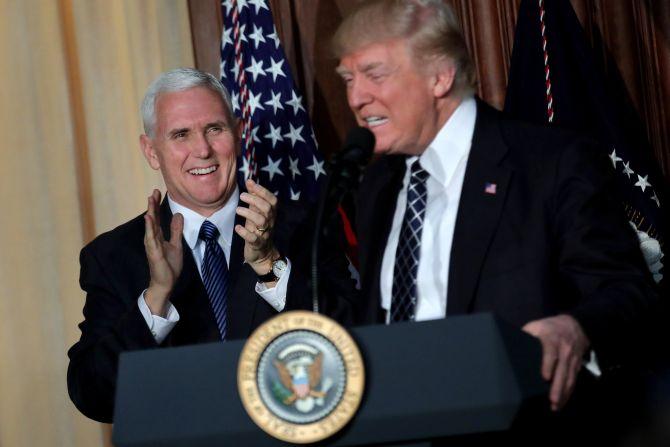 IMAGE: US President Donald Trump with Vice President Mike Pence, left, during the signing of an executive order on 'Energy Independence', eliminating Obama-era climate change regulations at the Environmental Protection Agency headquarters in Washington, DC. Photograph: Carlos Barria/Reuters

Keeping up his campaign promise, United States President Donald Trump has signed an executive order to roll back his predecessor Barack Obama's climate change measures, a move slammed as 'irresponsible' and 'spiteful assault' by the Opposition and environmental groups.
"With today's executive action, I am taking historic steps to life the restrictions on American energy, to reverse government intrusion and to cancel job-killing regulations," Trump said after signing the order at the headquarters of the Environmental Protection Agency on Tuesday.
"My action today is the latest in the series of steps to create American jobs and to grow American wealth. We're ending the theft of American prosperity and rebuilding our beloved country," Trump said.
White House Press Secretary Sean Spicer said Trump strongly believed that protecting environment and 'promoting our economy are not mutually exclusive goals'.
"This executive order will help to ensure that we have clean air and clean water without sacrificing economic growth and job creation," he said.
The Executive Order directs all agencies to conduct a review of all regulations, rules, policies and guidance documents that put up roadblocks to domestic energy production and identify the ones that are not either mandated by law or actually contributing to the public good.
It also rescinds a number of the previous administration's actions that do not reflect this administration's priorities.
The order directs the EPA to take several actions to reflect this president's environmental and economic goals, including a review of the new performance standards for coal-fired and natural gas-fired plants that amount to a de facto ban on new coal plant production in the US.
In his address Trump said his measures would start a new energy revolution.
"We are going to start a new energy revolution, one that celebrates American production on American soil. We want to make our goods here, instead of shipping them in from other countries. All over the world, they ship in, ship in, take the Americans' money, take the money, go home, take our jobs, take our companies, no longer folks, no longer," he said.
"We believe in those really magnificent words, made in the USA. We will unlock job producing natural gas, oil and shale energy. We will produce American coal to power American industry. We will transport American energy through American pipelines made with American steel, can you believe somebody would actually say that?" he said.
The opposition Democratic Party and environmental groups, however, slammed Trump for his latest move on energy and climate change.
"We risk throwing away decades of hard work growing the clean energy economy and connecting our nation's workers to the jobs of the future with this partisan and misguided action," said Indian-American Congressman Ami Bera, who is a Ranking Member of the Space Subcommittee of the House Committee on Science, Space and Technology.
"Putting America first means continuing our role as a global leader in reducing carbon emissions. Our work over the last decade to reduce carbon emissions put America first -- and this irresponsible executive order throws into uncertainty how we prepare for and tackle the very real consequences of climate change," Bera said.
Democratic Leader Nancy Pelosi said Trump and Congressional Republicans' contempt for clean air, clean water, and the US' clean energy future endangers the health of the country's children and the strength of the economy.
"The Administration's spiteful assault on the Clean Power Plan will not bring back jobs to coal country, it will only poison our air and undermine America's ability to win the good-paying jobs of the future," she said.
However, Congressional Western Caucus praised Trump for his executive order.
"With the signing of today's American Energy Independence Executive Order, the previous regulatory regime that stamped out innovation, killed jobs, and consistently moved the goalposts to untenable distances for the energy sector, is one step closer to being erased.
"Today's action from President Trump proves that environmental protections and economic development are not mutually exclusive goals," said its chairman Paul A Gosar.
House Speaker Paul Ryan said Trump's executive order will help America's energy workers and reverse much of the damage done.
"In particular, I hope that this action will result in full repeal of the Clean Power Plan, which ravaged coal country and was temporarily blocked by the Supreme Court last year. We are committed to repealing regulations that hurt jobs and drive up the cost of energy.
"To build on this, the House will act on legislation this week that ensures any new EPA regulations are rooted in science," he said.
Senator John McCain said Trump's executive order on energy independence was an important step forward in rolling back the Obama Administration's unconstitutional executive overreach on Arizona small businesses and consumers.
"These onerous regulations would have done far more harm to our state's economy than good for the environment. For example, regulations on power plants alone would have created millions in compliance costs for Arizona utilities, which would have been forced to pass on costs to Arizona consumers in the form of high monthly energy bills," he said.
American Iron and Steel Institute welcomed the executive orders signed by Trump.
"The leading states for iron and steel production in the US are heavily dependent on coal for electricity production and, therefore, so is our industry," said Thomas J Gibson, president and CEO of AISI.
"EPA regulations that disproportionately impact coal-generated electricity have put the affordability and reliability of electricity for steel producers at risk, and we are pleased that the Administration is taking another look at their impact for domestic manufacturers," he said.
*****
US House votes to revoke internet privacy rules
In a major development, the Republican-controlled United States House of Representatives on Tuesday voted to revoke the broadband privacy rules that the Federal Communications Commission approved days before President Donald Trump's election.
Republicans passed the measure 215 to 205 which would overturn FCC rule of requiring internet service providers to get customers' permission before selling sensitive consumer data such as browsing history.
The measure has now passed both chambers of Congress and will move to President Trump's desk to be signed into law.
The White House has said that it supports the bill.
FCC chairman Ajit Pai welcomed the passage of the resolution.
"Last year, the FCC pushed through, on a party-line vote, privacy regulations designed to benefit one group of favoured companies over another group of disfavoured companies. Appropriately, Congress has passed a resolution to reject this approach of picking winners and losers before it takes effect," he said.
"It is worth remembering that the FCC's own overreach created the problem we are facing today. Until 2015, the Federal Trade Commission (FTC) was protecting consumers very effectively, policing every online company's privacy practices consistently and initiating numerous enforcement actions," Pai said.
"However, two years ago, the FCC stripped the FTC of its authority over Internet service providers. At the time, I strongly opposed usurping the FTC, and the FCC's struggles to address the privacy issue over the past couple of years (along with its refusal to recognise consumers' uniform expectation of privacy) has only strengthened that view," Pai said.
Broadband Internet Service Providers have access to customer information ranging from physical location to shopping habits and beyond.
House Majority Leader Kevin McCarthy welcomed the passage of the bill.
"Since the dawn of the internet, the FTC has acted as America's online privacy regulator. Last year, after the FCC acted to strip the FTC of that role, the FCC attempted to adopt flawed rules that it claimed would provide privacy protections for customers of Internet Service Providers but in reality created confusion and harmed competition without privacy benefits," he said.
"The internet has become the amazing tool that it is because it is largely left untouched by regulation -- and that shouldn't stop now. The resolution we passed today will protect both consumers and the future of internet innovation by overturning this flawed FCC rule," McCarthy said.
Before the passage of the bill, the Democratic Leader Nancy Pelosi said that after this measure companies will be able to sell Americans' most personal and sensitive information, including private browser history, without their knowledge or consent.
"Information about when you log on, where you log on, and what you read could be sold to anyone willing to pay for it. Your broadband provider knows deeply personal information about you and your family -- where you are, what you want to know, every site you visit, and more," Pelosi said.
"They can even track you when you're surfing in a private browsing mode. You deserve to be able to insist that those intimate details be kept private and secure. But Republicans have picked the week after Russian spies were caught hacking into half a billion American email accounts to overturn the requirement that internet service providers keep their sensitive data secured from cybercriminals," she said.
Congressman Jared Polis, who led the Democrats in opposing the legislation, said while Republicans were talking loudly about fake wiretapping and make-believe spying microwaves, they are taking action to erode the privacy of anyone who uses the internet.
"Today, disappointingly, Republicans chose to allow broadband internet providers to sell off your personal information without your permission. Lawmakers who voted in favour of this bill just sold out the American people to special interests," said Polis.
"It is extremely disappointing that Congress is sacrificing the privacy rights of Americans in the interest of protecting the profits of major internet companies including Comcast, AT&T, and Verizon.
"President Trump now has the opportunity to veto this resolution and show he is not just a president for CEOs but for all Americans. Trump should use his power to protect everyone's right to privacy," ACLU legislative counsel Neema Singh Guliani said.
Congressman Barry Loudermilk said during the past eight years there were numerous efforts by the federal government to push regulations upon the technology sector.
"While some government intervention is occasionally justified to protect the privacy of citizens, in this case the FCC overstepped its bounds, implementing a rule that only targeted internet service providers, but not other internet technology companies," he said.
If a regulation is justified, it should apply across the board, not a targeted sub-segment of an industry, he added.
"Today's action is another step to remove unnecessary rules and regulations that handicap economic growth and innovation, and moves the country one step closer to ensuring that consumers' private information is protected uniformly across the entire internet ecosystem," said Jonathan Spalter, CEO of USTelecom.
"Consumers can rest easy today knowing their privacy is protected under existing FCC authority, which requires companies to keep consumers' data safe," he said.