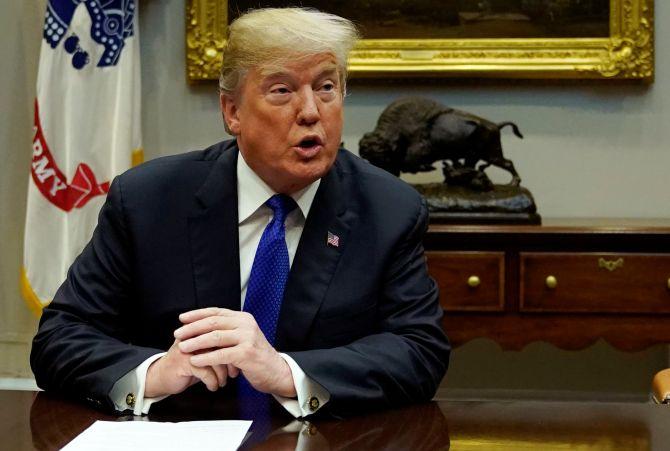 President Donald Trump on Tuesday said that he is preparing an executive order that would end the right to US citizenship for children born in the US to non-citizens, his latest hardline immigration rhetoric ahead of the midterm congressional elections.
Trump, in an interview with Axios, part of which aired Tuesday morning, said birthright citizenship "has to end" and that it would "with an executive order."
Under the current laws, anyone born in the US irrespective of the nationality of parents, automatically becomes an American citizen.
"We're the only country in the world where a person comes in and has a baby, and the baby is essentially a citizen of the United States for 85 years with all of those benefits. It's ridiculous. It's ridiculous. And it has to end," Trump said.
A portion of the interview was released Tuesday. The full interview "Axios on HBO" is scheduled to be aired on Sunday.
Asked about the legality of such an executive order, Trump said, "It was always told to me that you needed a constitutional amendment one amendment. You don't have to do it. Number one. Number two, you can definitely do it with an act of Congress. But now they're saying, I can do it just with an executive order."
Some legal experts believe that the president with an executive order can end birthright citizenship without changing the Constitution.
Responding to a question, Trump said the effort to end birthright citizenship is in the process.
"We are in the process. It'll happen with an executive order. That's what you're talking about," he said.
According to Axios, Trump said he has run the idea of ending birthright citizenship by his counsel and plans to proceed with the highly-controversial move, which will certainly face legal challenges.
Meanwhile, American Senator Lindsay Graham said that he plans to introduce a legislation in the Senate to end birthright citizenship.
Praising Trump's move, Graham said finally the US has a president who is "willing to take on this absurd policy" of birthright citizenship.
"I've always supported comprehensive immigration reform – and at the same time – the elimination of birthright citizenship," Graham said.
"I plan to introduce legislation along the same lines as the proposed executive order from President," Graham said as he praised the US president in a series of tweets.
"The US is one of two developed countries in the world who grant citizenship based on location of birth. This policy is a magnet for illegal immigration, out of the mainstream of the developed world, and needs to come to an end," Graham said.
During the 2016 presidential campaign, Trump had called for ending "birthright citizenship," but had so far not taken action as president.
With the midterm elections nearing, Trump has renewed his drive to end migrants coming across the border, vowing to take drastic actions.
In one such step, the Pentagon on Monday announced it will deploy 5,200 additional troops to the US-Mexico border by the end of the week to stop thousands of migrants and refugees in a caravan from entering the country.