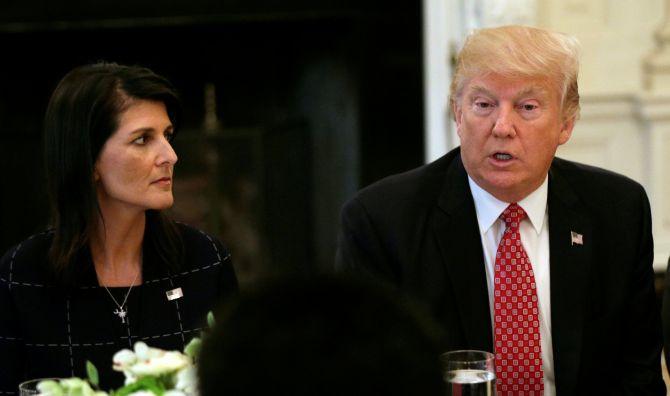 Is United States President Donald Trump wary of his United Nations Ambassador Nikki Haley overshadowing him and getting more publicity? Well, maybe.
Because at a working luncheon with ambassadors from 15 member countries of the UN Security Council recently, Trump joked about 'replacing' Haley.
Praising Haley 'for doing a fantastic job', Trump said, "I want to thank Ambassador Nikki Haley for her outstanding leadership, and for acting as my personal envoy on the Security Council. She's doing a good job."
"Now, does everybody like Nikki?" Trump asked the other envoys sitting in the State Dining Room of the White House.
"Because if you don't... she can easily be replaced," he said, evoking laughter.
"No, we won't do that, I promise. We won't do that. She's doing a fantastic job," he said.
Haley led an ambassadorial delegation from the Security Council for a meeting with Trump.
Earlier this month, Haley had told CNN that Trump doesn't limit her ability to speak out about policy:
'He has given me a lot of leeway to just say what I think and interpret what he thinks,' Haley had said, adding, 'I'm a strong voice by nature. I'm sometimes a bull in a china shop. And, you know, he allows me to do that.'
Haley, an Indian-American and a former Trump critic, has won positive reviews for her role as UN ambassador, particularly for her speech following the gas attack on civilians by Syrian President Bashar al-Assad.
Last year, the American media reported her to be a frontrunner in race to become Secretary of State.
'This joke about Haley certainly seems to be in keeping with Trump's long-standing practice of keeping his people guessing,' CNN said in a report.
With inputs from PTI
IMAGE: US ambassador to the United Nations Nikki Haley with President Donald Trump during a working lunch with ambassadors of countries on the UN Security Council at the White House in Washington. Photograph: Kevin Lamarque/Reuters