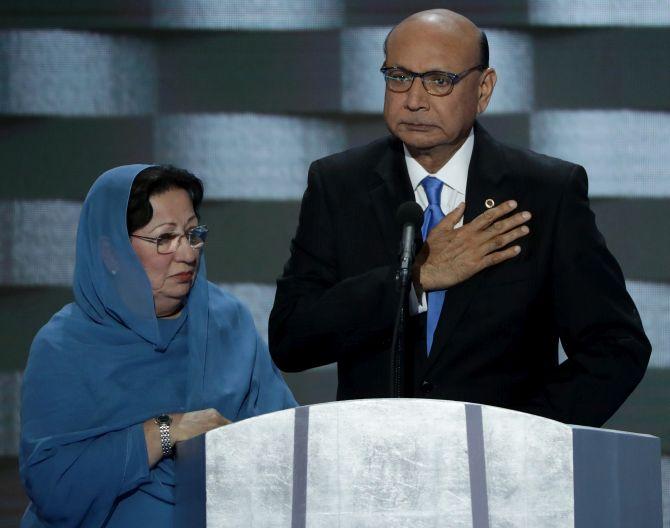 Donald Trump's comments against father of a slain Pakistani-origin American Muslim soldier appears to have shaken the United States presidential race as his own party leaders came out openly against the Republican presidential nominee.
While House Speaker Paul Ryan said a "religious test" for entering the US is "not reflective of the country's fundamental values", former Florida Governor Jeb Bush said the reality TV star's remarks were "disrespectful" in targetting a family that endured the "ultimate sacrifice" for the country.
Ryan hailed Army Captain Humayun Khan, who was killed by a suicide bomber in Iraq in 2004, and said America's greatness is built on the principles of liberty and preserved by the men and women who wear the uniform to defend it.
"As I have said on numerous occasions, a religious test for entering our country is not reflective of these fundamental values. I reject it," he said in a statement.
"Many Muslim Americans have served valiantly in our military, and made the ultimate sacrifice. Captain Khan was one such brave example. His sacrifice -- and that of Khizr and Ghazala Khan -- should always be honoured. Period," he said.
Governor John Kasich of Ohio, a former Republican presidential candidate, tweeted: "There's only one way to talk about Gold Star parents: with honour and respect. Capt. Khan is a hero. Together, we should pray for his family."
Kasich was joined by Bush on Twitter in slamming Trump. "This is so incredibly disrespectful of a family that endured the ultimate sacrifice for our country," said Bush, who badly lost the Republican primary to Trump.
In an interview to CNN, Senator Jeff Session who was among the first few top Republican leaders to endorse Trump said that he "rejects" and is "disappointed" over the remarks made by the billionaire from New York against Khan.
The 70-year-old real estate tycoon sparked controversy last week when he lashed out at Humayun's father Khizr Khan over his speech on Thursday at the Democratic National Convention in which he was highly critical of Trump and said that the billionaire has "sacrificed nothing" for the country.
A day later, Trump hit back, saying he created thousands of jobs and questioned whether his wife was even "allowed" to speak, triggering a national outrage following which he later called Humayun a "hero". He, however, continued to criticise Khizr, drawing a flood of criticism on Sunday.
Many criticised him both for attacking a mourning mother and because many considered the remarks racist and anti-Muslim, especially because they came from someone who has called for a ban on Muslims entering the US.
"I was viciously attacked by Mr Khan at the Democratic Convention. Am I not allowed to respond? Hillary voted for the Iraq war, not me!" Trump tweeted, even as his running mate came to his rescue giving another set of clarification.
"Donald Trump and I believe that Captain Humayun Khan is an American hero and his family, like all Gold Star families, should be cherished by every American," Mike Pence, the Republican vice presidential nominee, said as the national outrage over Trump's comment refused to die down.
In an op-ed in The Washington Post, Ghazala Khan, mother of Humayun, lashed out at Trump and said that he is ignorant about Islam.
Ghazala said: "When Donald Trump is talking about Islam, he is ignorant. If he studied the real Islam and Quran, all the ideas he gets from terrorists would change, because terrorism is a different religion.
"Donald Trump said he has made a lot of sacrifices. He doesn't know what the word sacrifice means."
In a statement, Senate Minority Leader Harry Reid urged the Senate Majority Leader Mitch McConnell and House Speaker Ryan to revoke their endorsement of Trump.
"Anything short of Senator McConnell and Speaker Ryan revoking their endorsements of Donald Trump is cowardice," he said.
The Council on American Islamic Relations on Sunday demanded that Trump apologises on his comments and is urging Muslim women to speak out against him.
Pence said: "Captain Khan gave his life to defend our country in the global war on terror. Due to the disastrous decisions of Barack Obama an Hillary Clinton, a once stable Middle East has now been overrun by Islamic State. This must not stand.
"By suspending immigration from countries that have been compromised by terrorism, rebuilding our military, defeating IS at its source and projecting strength on the global stage, we will reduce the likelihood that other American families will face the enduring heartbreak of the Khan family."
Image: Khizr Khan, father of deceased Muslim U.S. Soldier Humayun SM Khan, delivers remarks on the fourth day of the Democratic National Convention at the Wells Fargo Center in Philadelphia. Photograph: Alex Wong/Getty Images