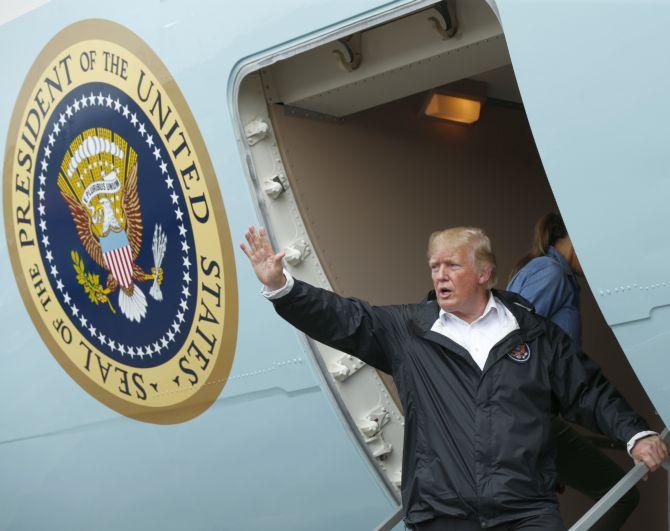 United States President Donald Trump on Sunday called North Korea a "great threat and embarrassment" to China and warned that "appeasement" won't work with Pyongyang, after the reclusive nation carried out its biggest nuclear test.
"North Korea has conducted a major nuclear test. Their words and actions continue to be very hostile and dangerous to the United States," Trump tweeted.
"North Korea is a rogue nation which has become a great threat and embarrassment to China, which is trying to help but with little success," he said in another tweet.
Pyongyang on Sunday claimed it has successfully tested a hydrogen bomb meant to be loaded onto an intercontinental ballistic missile. It was Pyongyang's sixth, and most powerful, nuclear test, which was set to raise tension in the region.
North Korea last carried out a nuclear test in September 2016.
It has defied United Nations sanctions to develop nuclear weapons and to test missiles which could potentially reach the mainland United States.
Last month, North Korea threatened to launch missiles near the US Pacific territory of Guam after Trump said Pyongyang would face "fire and fury" if it threatened the US.
Those threats have not deterred the North's nuclear weapons programme.
Trump on Sunday indicated he favours a tougher approach against Pyongyang to curtail its nuclear programme.
"South Korea is finding, as I have told them, that their talk of appeasement with North Korea will not work, they only understand one thing!" Trump said.
Last week, North Korea flew a medium-range ballistic missile over Japan, prompting the government in Tokyo to warn residents to take cover.
Earlier on Sunday, Trump and Japanese Prime Minister Shinzo Abe discussed the growing North Korean threat. A readout of their conversation, however, did not say whether the phone call -- the third between the two leaders in less than a week -- happened before or after the North's latest test.
Image: The US president called North Korea a rogue nation and said that he favoured a tougher approach against Pyongyang to curtail its nuclear programme. Photograph: Kevin Lamarque/Reuters