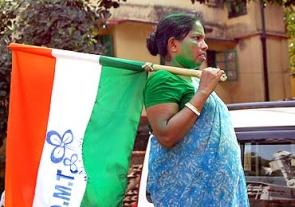 With Narendra Modi blowing hot and cold against the Trinamool Congress and its leader Mamata Banerjee during his rally in Kolkata, two senior TMC leaders on Thursday dismissed the possibility of an alliance with the Bharatiya Janata Party even after the Lok Sabha polls.
"Our leader has already made it clear that there is no possibility of a pre-poll or post poll alliance with the BJP," said Urban Development Minister Firhad Hakim.
"The Congress is a sinking ship. Modi can never become the prime minister as the National Democratic Alliance will not reach the magic figure of 272. We believe a government comprising representatives of regional parties will come to power at the Centre," Hakim said.
Hakim said only a secular and transparent government would come to power in Delhi after the parliamentary polls.
"Some vested interests are spreading rumours and trying to confuse Muslims," he said while reacting to an attack by two Union ministers from the state -- Deepa Dasmunshi and Adhir Chowdhury -- who have alleged a covert alliance between the TMC and BJP.
A Muslim leader and TMC MP Sultan Ahmed claimed that a federal government led by Mamata Banerjee would be formed after the elections, "so the question of supporting Congress and the BJP does not arise".
"Our leader Mamata Banerjee has already said we will fight against the Congress, BJP and the CPI-M. Muslims in Bengal know that CPI-M has done nothing for them during their 34-year rule," Ahmed said, adding that the state government had showered sops on Muslims, including new loan schemes and creating an employment bank.
He said the Trinamool Congress government had increased allocation for the minorities department by 73 per cent in the state budget for the current financial year.