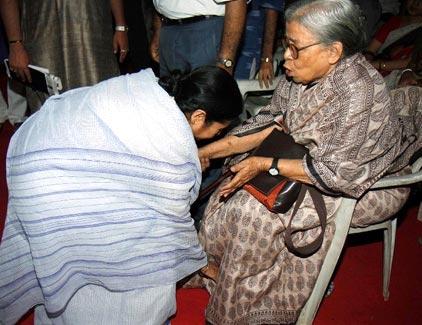 'The chief minister has to remember that the people of Bengal have suffered a lot. They waited for three decades for a change in rule. Hence, they are impatient and want fast and effective action.'

Legendary writer Mahasweta Devi rates the Trinamool Congress-led government in West Bengal.

Legendary writer Mahasweta Devi, one of Bengal's most prominent intellectuals and activists, had marched along with Mamata Banerjee during the Trinamool Congress chief's long struggle to oust the Left Front government from the state.

Today, Mahasweta Devi is not happy with Banerjee's leadership. The Trinamool Congress government's high-handedness and alienation from the people have upset the octogenarian.

In an exclusive interview to Rediff.com's Indrani Roy, the winner of the 1996 Jnanpith Award and the 1997 Ramon Magsaysay Award voices her grievances with the Trinamool regime in Bengal.

Are you happy with this poriborton (change) in governance?

How can I be happy? We (those who had supported Mamata Banerjee before she came to power) had not sought a mere change in the seat of power. We had aspired for a socio-economic and ideological change.
Sadly, we see that the Left Front government's misdeeds are often being repeated by the present government.
Poriborton means thorough change, right? That has not taken place in West Bengal.
Could you please elaborate?
When the people of Bengal took to the streets against the Left's misrule, they had asked for better governance. By that, they had meant an improved state of healthcare, education, law and order...
Take a look at these three sectors now -- crib deaths are rising to an alarming proportion; the healthcare system is in shambles; anarchy is haunting the education system.
As far as the law and order situation in Bengal is concerned, the least said the better. The literacy drive too has taken a backseat.
What, according to you, is wrong with the present government?
I am not in a position to analyse the way this government is running the state. But as an experienced person who has walked a long way, I can say something is definitely wrong somewhere.
The orchestration is faulty; the networking is, perhaps, not proper.
Also, I feel promises made by this government are being systematically broken.
Look at what is happening in Singur. The farmers who did not give up their land are starving now. All they are getting is a bunch of false promises. It is a sad state of affairs.
Why do you think the Trinamool Congress government is not keeping its promises?
I think the Trinamool Congress as a political party got too much power too soon.
This party is rather new to have achieved such a big win in the elections. It needed more time to get itself organised.
Lack of discipline has become a hallmark of this party and it is showing everywhere.
What needs to be done?
I think the present government is forgetting the fact that the Left Front government was voted out of power mainly because of its arrogance as well as apathy towards the people.
The people voted for the Trinamool Congress led by Mamata Banerjee as they had a lot of faith in her.
But if the TMC too goes the Left's way, it won't be long before the people decide to go against it.
You are always in touch with the common people. What do they have to say?
Soon after Mamata came to power, the common people were in a trance. They were spellbound by Mamata's charm and charisma.
Of late, I have been hearing loud voices of discontent.
People have started questioning the various assurances given by her -- that of creating thousands of jobs in the state, improving the state of Singur's unwilling farmers, doing up the state's healthcare system etc.
The honourable chief minister has to remember that the people of Bengal have suffered a lot. They waited for three decades for a change in rule. Hence, they are impatient and want fast and effective action.
Why do you think is there so much dissidence in the TMC?
I have heard that party members are not given a free hand.
We are living in a democracy, right? This party came to power through a democratic system. Any sign of despotism is bound to give rise to dissidence.
Voices of dissent do not augur well for such a young party, especially when they reach public ears.
Why are the intellectuals keeping mum?
I don't know who you have in mind.
When Mamata launched her movement against the Left, only a handful of intellectuals stood by her. Now, only those voices are protesting against any mistake on the government's part.
It is not too easy to speak against the establishment, you see.
Some political analysts have started predicting the Left Front's comeback in the next assembly election. Some say the Left Front would not need to campaign to return to power.
Yes, I know. I shudder to think what will happen if the Left comes back to power in 2016.
I don't think that protyaborton (Left's return to power) will be beneficial for Bengal.
What is your suggestion for the people of this state?
I have always believed that real history is made by ordinary people. The people are the real leaders; they are the soul of any democracy.
My suggestion to them would be: Raise your voice against wrongdoing; be united; put forth your demands boldly; take to the streets when your voices are not heard.
No politician can ever silence the people's passion.
Image: Trinamool Congress leader Mamata Banerjee touches Mahasweta Devi's feet.