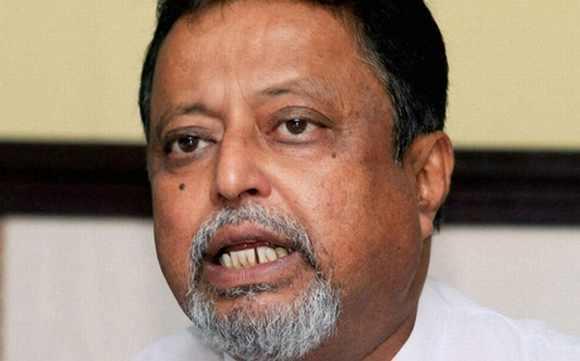 Trinamool Congress chief Mamata Banerjee on Saturday carried out a major reshuffle in the party set-up, giving additional responsibilities to her close confidants and elevating former union minister Dinesh Trivedi to vice-president's post in an exercise that left her close aide Mukul Roy out in the cold.
"Trinamool Congress has appointed Subrata Bakshi, a party member of Parliament, as additional all-India general secretary. He is a founder-member of the party," party secretary-general Partha Chatterjee told media persons after the meeting.
Mukul Roy, who has been made to share responsibility as all-India general secretary with Bakshi, a staunch Mamata loyalist, was conspicuous by his absence from the closed-door meeting convened at Mamata's residence to discuss the party's preparedness for the coming civic polls.
Roy, a Rajya Sabha member who was recently quizzed by the Central Bureau of Investigation of in the Saradha chit fund scam, not being given additional responsibilities that were given to some of his party colleagues, came amid media speculation of strained ties between him and the party supremo.
Asked to explain the absence of Roy, a key party organiser, Chatterjee said,"The (Roy) is busy with political activities and has been absent at the meeting by taking prior permission from the party".
Roy had recently said that he was part and parcel of the party, when asked if there was a rift between him and the party leadership. He also participated in the party's campaign for the by-election to Bongaon Lok Sabha and Krishnaganj assembly seats in West Bengal which was held on Friday.
Chatterjee said party MP Derek O'Brien, state Urban Development Minister Firhad Hakim and party Lok Sabha member Kakoli Ghosh Dastidar were elevated to the national committee of the party.
He said O'Brien and the party Lok Sabha member Kalyan Banerjee would liason with like-minded parties. Dinesh Trivedi, who was appointed vice-president of the party, had recently caused a flutter in party circles by singing fulsome praise of Prime Minister Narendra Modi, which
set off speculation in the media that he would switch over to the BJP, though he maintained that he was still with the TMC.
Trivedi, a founding member of Trinamool Congress set up 16 years ago, recently told a TV channel "I won't predict anything, but I want to change the DNA of Indian politics -- and for that, I will do whatever it takes."
Trivedi represents Barrackpore constituency near Kolkata in Parliament.
Trivedi was forced by Mamata to resign in 2012 as the railway minister in the Manmohan Singh cabinet after his budget contained a passenger fare hike against the wishes of the party supremo.
Chatterjee said that state panchayat minister Subrata Mukherjee had been given the charge of party affairs in Tripura. "Derek O'Brien will oversee the party's organization in the Northeast and Kerala. Suvendu Adhikari, another party MP, will oversee Assam," he said.
The party's MLAs and MPs and district unit presidents were present at the nearly two-hour meeting at Banerjee's residence.
Later, in an informal conversation with media persons, Roy said replying to a question on the reason for his absence in the meeting "Why I did not go, the party leader (Mamata) knows. Anyway, whatever is done is done for the good."
Told about the additional responsibilities given to his party colleagues, he said 'the party has become big and the organisation has become large and for that they (some of his party colleaugues) might have been given those (additional responsibilities).
Roy's explanation was prompted by persistent queries whether he thought his wings had been clipped by the party supremo in the latest organisational overhaul. Mamata was reportedly upset about the absence of Roy in the meeting.
Party insiders said that at the start of the meeting, Mamata wanted to know where Mukul was.
At that stage, sources said, Derek O'Brien gave her a chit wherein Roy reportedly expressed his inability to attend the meeting due to preoccupation with political activities.
Mukul Roy, known for his organisational acumen, was questioned by the CBI on January 30 in connection with the Saradha chit fund scam. He had said that he wanted the 'actual truth' to come out. He also gave an assurance that he would cooperate with the probe agency.
The CBI and Enforcement Directorate have already questioned several TMC MPs and other people in the scam which put TMC at unease.
Partha Chatterjee said that the TMC was assuming national importance, pointing out "we started the membership drive on January 1, 2015. Scrutiny committees will operate at district and state level."
In the meeting, Chatterjee said, coming municipal elections were also discussed, for which committees have been formed. Election to the Kolkata Municipal Corporation and a number of municipalities across the state are scheduled to be held this year.