The toll in the forest fire in Theni district rose to 10 on Monday as the Tamil Nadu government ordered a probe into it and assured action against those who allegedly arranged for the expedition without permission.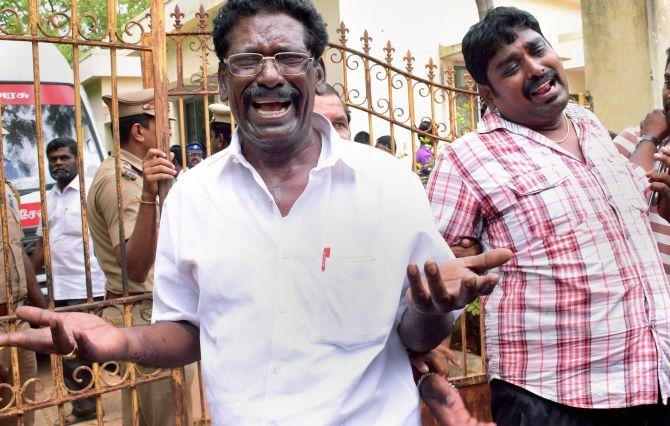 IMAGE:

Relatives of the trekkers caught in Korangani reserve forest fire wail outside the Theni Government Medical College hospital, in Theni.

Photograph: PTI Photo
Chief Minister K Palaniswami said 10 persons -- seven women and three men -- were killed in the fire at Kurangani Hill ranges in Western Ghats and expressed grief over the deaths.
While seven of the victims were from Chennai, others were from Erode district, he said in a statement.
"I was anguished to know that 10 persons were killed in the forest fire," the chief minister said.
Palaniswami announced a solatium of Rs 4 lakh to each of the families of the deceased, Rs one lakh to the grievously injured and Rs 50,000 to those with simple injuries.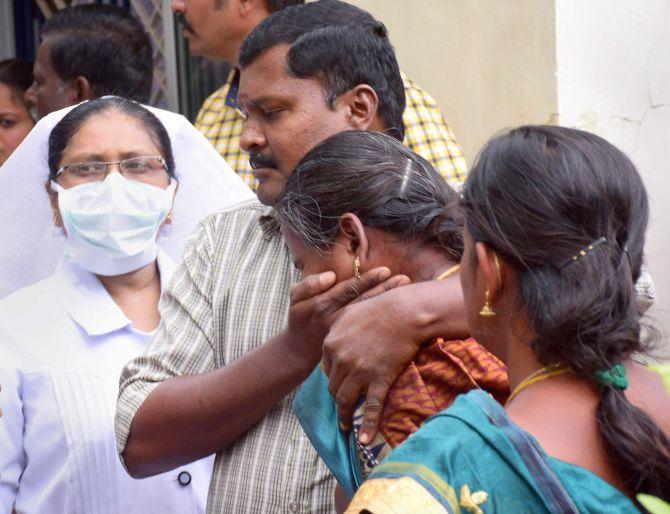 IMAGE: The trekkers were caught in the forest fire in Kurangani Kozhukumalai hill ranges near Theni, some 500 km away from Chennai. Photograph: PTI Photo
While directing a probe into the incident, the chief minister said action should be initiated against those who arranged for the trek without forest department's permission.
The district administration and health department officials had been instructed to ensure best medical treatment to those admitted to local hospitals, he said.
He also prayed for their swift recovery.
Palaniswami said soon after he came to know of the fire on Sunday, he directed steps for their safe rescue. His deputy O Panneerselvam and the others oversaw the operations, he said.
His cabinet colleagues -- Revenue Minister R B Udayakumar and Health Minister C Vijayabaskar, besides some senior officials, were camping in that area.
While state rescue agencies, including Fire department rescued 26 stranded persons, the Centre also deployed defence helicopters and commando forces during the operations, he said.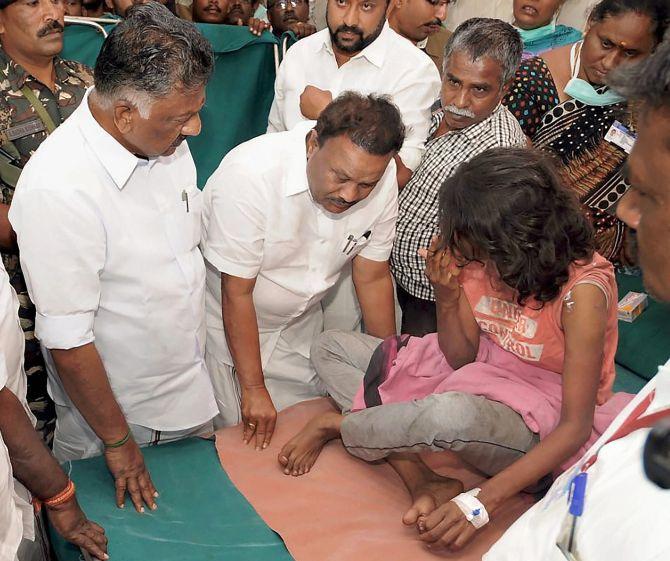 IMAGE:

Deputy Chief Minister O Panneerselvam meets the injured who were caught in a forest fire in Tamil Nadu's Theni district.

Photograph: PTI Photo
Palaniswami earlier in the day said the trekkers caught in the fire did not have permission for the expedition.
"Without permission, they embarked on a trekking expedition. Trekkers should climb hills only after taking the government's nod," he had said in his native Salem district.
The chief minister also warned that stern action would be taken in future against trekkers who undertake such expeditions without state's permission.
During summer months of March, April and May, permission to trek is not given as the high forest ranges are dry with the possibility of forest fires spreading fast, he had said.
A 36-member team -- 24 people from Chennai and 12 from Tiruppur and Erode districts -- had embarked on the trekking expedition and reached Kurangani hills on March 10.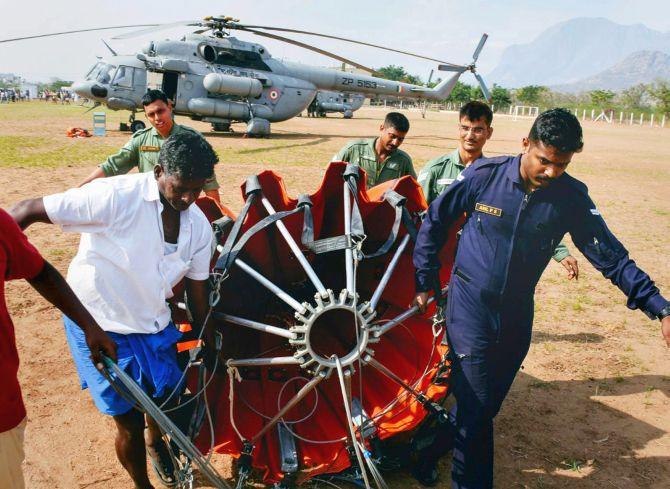 IMAGE:

A team of IAF personnel from Sulur Airbase in Coimbatore prepare for the rescue operation after 39 trekkers were caught in Bodi hills forest fire, in Theni district .

Photograph: PTI Photo
The team included 25 women and three children, according to Theni District Collector Mariam Pallavi Baldev.
Three of them had returned to the plains without going ahead further.
Baldev said the trekkers after staying at an estate in Kozhukumalai overnight, started their return journey to the plains on Sunday morning when they heard of the sudden forest fire and got separated while attempting to find a safe way.
The trekkers were caught in the forest fire in Kurangani Kozhukumalai hill ranges near Theni, some 500 km away from Chennai.
The hills are in the Western Ghats near Bodinayakanur, about 40 km from Theni.