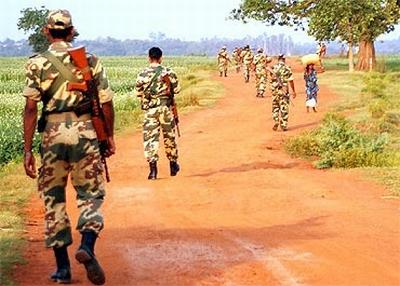 The audacious strike on top Congress leaders by a Naxal battalion in Chhattisgarh on Saturday has proved that the left-wing extremists have no intention of pausing their armed struggle against the government.
An official of the Central Reserve Police Force, the paramilitary force which has been deployed across Naxalism-hit areas, explained the situation on the ground to Rediff.com's Vicky Nanjappa.
Speaking on condition of anonymity, the officer said, "Naxalism is a persistent problem, an armed struggle with a political cause that will not die down overnight.
"None of the state governments which face the problem are on the same page. Some have used the Naxals to further their political agenda and hence go soft on them. The CRPF is a centralised agency and it needs the support of the local police to handle the issue.
The state intelligence unit is a crucial wing; if the concerned state government has decided to toe a soft line, the information pouring in is often too weak.
"A consistent effort is needed to fight the problem. Agencies may strike at them and run them down, but Naxal units revive themselves very soon due to local, and in some cases, political support.
"Progressive thinkers believe that the problem is lack of development in tribal areas. But on the ground, we have often seen that Naxals themselves do not allow development as they fear losing the cause they are fighting for. There have been many instances in which Naxals have not allowed developmental efforts in a particular area.
"If all the governments reached a consensus, the problem can be sorted out. We need to strike at the Naxals, secure the area occupied by them and then get down to developmental works. The locals will witness the development and stop being sympathetic towards the movement.
"There is a lot of talk about the Andhra Pradesh model, but that model may not work in today's scenario. In certain areas of Chhattisgarh, the problem has become widespread. The tactic of luring Naxals into the fold of the administration and literally driving them away, as was done in Andhra Pradesh, will not work as they have become extremely adamant to change.
"Today, the only option is to push them on the backfoot. We need to keep hitting at them. The mindset of certain politicians has to change. The Naxal issue should be treated on par with terrorism, not as the armed political struggle of the weaker class.
"The more we hit at them, the weaker they become, but this needs to be a sustained effort".
Image: CRPF personnel are a common sight in Naxalism-affected areas| Photograph: Dipak Chakraborty/Rediff.com