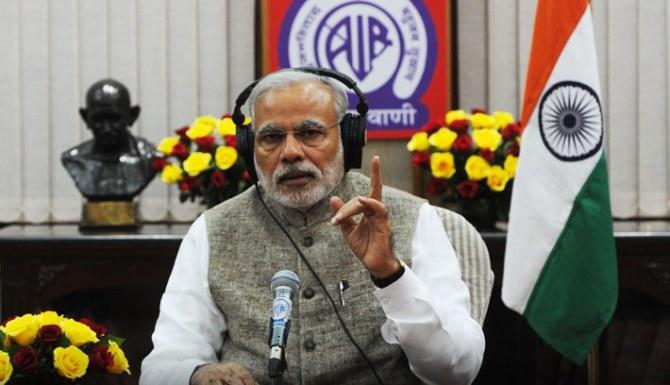 Prime Minister Narendra Modi on Sunday voiced concern over the declining sex ratio in 100 districts of the country, with situation being "more serious" in Haryana, and pitched for a campaign to save girls through the social media.
In his monthly 'Mann Ki Baat' programme on radio, he, however, refrained from speaking on politics or recent controversies surrounding Rajasthan Chief Minister Vasundhara Raje over the Lalit Modi issue which some quarters were expecting.
He talked about the recently-launched three social security schemes and three developmental schemes, including 'housing for all' by 2022, as well as the Yoga Day celebrated on June 21.
He also emphasised on the need for saving water and planting trees to preserve the environment.
During his 20-minute programme, Modi mentioned about the 'Beti Bachao, Beti Padao' (save daughter, educate daughter) scheme launched by the government.
In this context, he mentioned that a Sarpanch of Bibipur village in Haryana Sunil Jaglan had started "selfie with daughter" competition wherein fathers were to post their 'selfies' with their daughters.
Appreciating the initiative and pitching for a campaign to save the girl child, Modi asked all fathers to send their 'selfies' with their daughters to him, out which he will retweet the good ones.
"In Haryana, the number of girls is lesser than that of boys. Across the country, there are about 100 districts where the situation is worrisome. In Haryana, the situation is more serious," the prime minister said.
"It gives pleasure that in the same Haryana, a Sarpanch of a small village can give such a dimension to the 'Beti Bachao' programme. It raises new hopes. That is why I appreciate this initiative. But it also gives me an inspiration and that is why I urge you to click pictures with your daughters and post those on #selfiewithdaughter," Modi said.
He said those posting the pictures should also write a tagline, in any language, that strengthens the 'beti bachao, beti padao' initiative.
"Among those, whichever are more inspiring, will be retweeted by me. In this way, we can convert the 'beti bachao, pedi padao' effort into a mass campaign," Modi said.
Talking about his initiative for building toilets in all government schools in the country, he recalled that he had made the announcement during his first Independence Day speech last year.
"I had said that we will complete this task by next Independence Day. To say that the work that could not be done in 60 years will be completed in one year requires a lot of courage as almost 4.5 lakh toilets had to be built. But today I can say with satisfaction that, while the Independence Day is still some time away, the work to construct toilets in all schools has almost been completed, although the task is not finished yet," he said.
This shows that the government and its employees want to work for the development of the country and this is the real power to take the nation forward, he said.
The prime minister also referred to the three social security schemes launched recently, which included Atal Pension Yojana and an insurance scheme for the poor.
"In India, very little work has been done in terms of social security but through these three schemes, we are taking a big jump," he said.
To take the initiative forward, he suggested that on the upcoming Raksha Bandhan, boys should "gift" these policies to their sisters and even their maids and labourers.
The prime minister also talked about three developmental schemes launched a few days back. These are the Smart Cities Mission, Atal Mission for Rejuvenation and Urban Transformation and Housing for All (Urban) schemes.
"We need to develop SmartCities and AMRUT cities to match the world. We also need to have houses with toilets for all by 2022 when the country celebrates its 75th year of Independence," he said.
Modi also asked the countrymen to be proud of their history and culture and propagate it as the world is eager to know more about India.
In this context, he referred to the Yoga Day celebrated across the world on June 21, with even United Nations Secretary General Ban Ki Moon participating in it at the UN Headquarters. He also mentioned how it was celebrated in all the developed and developing countries to demonstrate that "sun never sets on yoga".
"My dear countrymen, you have made me the prime minister but a human being in me sometimes gets lost in you all, leaving aside the post I am holding. The Yoga Day on June 21 got me involved in the same way," he said.
He asked the IT professionals to create an online yoga activity so that more awareness is created about it as also a database of teachers of this field.
"There should be a start from somewhere. This will also become a new power. I see the recent events from another perspective also. We have seen how a working government, a running government can achieve results once targets are set. We should not forget that a year ago, there was despondency all around. Only one voice was heard -- 'nothing is happening'," he said.
"Now imagine. Ayush is a small department in the government to which nobody paid any attention earlier.... But on Yoga Day, it led and organised such a big event. So, if a target is fixed, even small unit can do big things," he said.