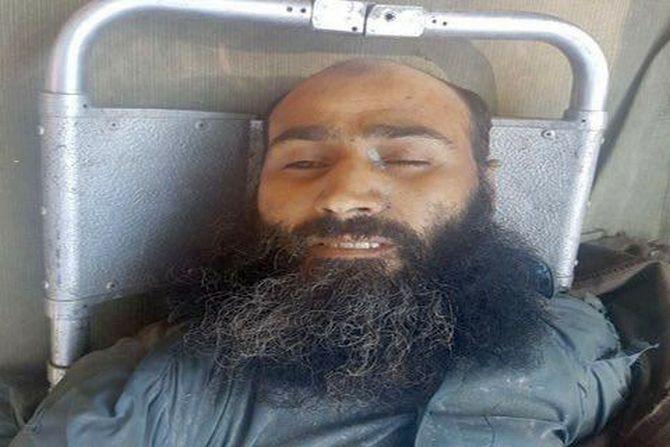 Top Hizbul Mujahideen terrorist Abdul Qayoom Najar was on Tuesday killed in a gunbattle with security forces near the Line of Control in Uri sector in Baramulla as he was trying to sneak into the valley to take charge of the outfit, a senior police officer said.
It was a major success for the security forces as Najar was wanted for his alleged involvement in more than 50 killings, including that of four policemen in Hygam area of Sopore, in the past 17 years, Baramulla Senior Superintendent of Police Imtiyaz Hussain said.
He was also involved in attacks on telecommunications towers across the valley in 2015, the SSP said.
"Najar was killed as security forces foiled an infiltration bid near Zorawar post in Lachipora area along the LoC this morning. He was returning to Kashmir to take over the command of Hizbul Mujahideen in the wake of elimination of top commanders of the outfit by security forces," he said.
Najar, a resident of Sopore township, was "one of the most dreaded terrorists" in Kashmir in the recent times, he said.
"He has killed a lot of civilians, policemen and security forces. He was involved in a lot of IED explosions because he was an IED expert. While he was trying to infiltrate into this side, he was carrying IED material with him.
"So, it is a big success, big achievement, for all of us especially because had he been alive and had he successfully infiltrated into this side, it would have been a big problem for us. Neutralising him would have been very difficult as he was already heading a huge network in Sopore, Palhallan, Pattan, Handwara areas of Bandipora and Baramulla. We should be thankful to our Army," the SSP said.
He said Najar had joined militancy with the killing of Hizb commander Abdul Majid Dar in 2003.
The officer said Najar was called to the base camp in Pakistan-occupied Kashmir by his handlers in 2015 after he fell out with the Hizb and separatist leaderships.
"To sort out those misunderstandings, he was called back to the base camp in Muzaffarabad... He stayed with (Hizb supremo) Syed Salahuddin," he said, adding that Najar was sent back to Kashmir after the killings of the outfit's north Kashmir commander Parvez Wani and south Kashmir commander Yasin Yatto.
Najar was tasked with reviving the outfit in Kashmir in the wake of elimination of top militants, he said.
"Hizbul Mujahideen has almost been wiped out from north Kashmir. So, had this gentleman made entry into north Kashmir, it would have been a problem for us. That way it is a big relief to us and a big relief to all victims of his activities.
"He was one of the smartest militants I have known in my 18 years of service. Very very smart, extremely smart, he would not trust anybody, not even his wife or his brother," the police officer added.
hotograph: Umar Ganie/Rediff.com