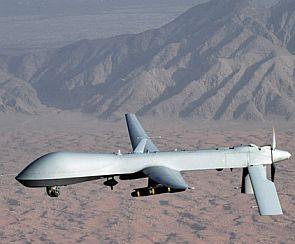 A close aide of slain Al Qaeda chief Osama bin Laden was among six militants killed in a United States drone attack in Pakistan's lawless tribal region 10 days ago, media reported on Tuesday.
Mustafa Abu Yazid, the chief operational commander of Al Qaeda, was killed along with six Qaeda operatives on July 10 in the Datta Khel area of North Waziristan.
Abu Yazid was a close aide of bin Laden and had claimed responsibility for the 2007 murder of Benazir Bhutto in Rawalpindi, The News reported.
Sanafi al Nasr, the head of al Qaeda's 'Victory Committee' who is based in Syria and has close ties with its general command in Pakistan, said that six of his "dearest comrades" were killed in the US drone strike in Pakistan.

While tweeting on the death of his three colleagues, Nasr named three of them as Taj Al Makki, Abu Abdur Rahman Al Kuwaiti and Fayez Awda Al Khalidi.
He did not name the three other Al Qaeda leaders. The News, however, said Abu Yazid was also among those killed in the drone strike.
Makki from Saudi Arabia, Rahman from Kuwait and Khalidi were mid-level commanders and were important to the terror group due to their association with Nasr.
The US had stopped its drone programme in December to give Pakistan time to pursue peace talks with the Pakistani Tehreek-e-Taliban (TTP).
But the talks failed and military launched the operation to flush out militants from the region following a deadly attack on Karachi international airport that left 39 people dead.

Pakistan opposes the US attack as violation of its sovereignty.
The July 10 killings of six Al Qaeda leaders have given credence to the American claims that the outfit continues to thrive in the tribal areas of Pakistan even after bin Laden's killing in a US military raid in May 2011.