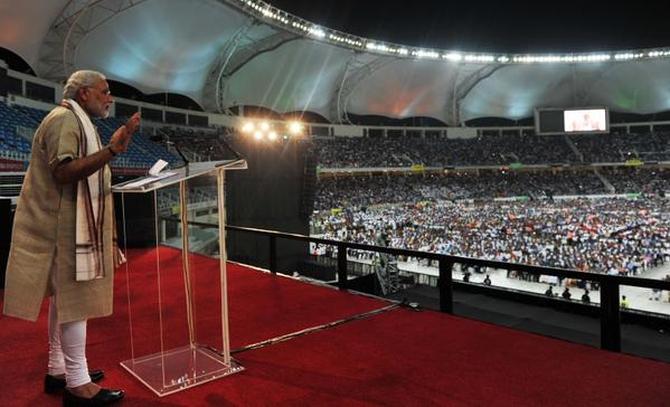 Pitching for a "decisive battle" against terrorism, Prime Minister Narendra Modi on Monday night asked countries to choose if they are with sponsors of the menace or against them as he underlined that dialogue is the only way to resolve all issues with neighbours.
Here are the top 10 quotes from the speech to a gathering of around 50,000 Indians at the Dubai International Cricket stadium
I keep telling all neighbouring countries that like all people who have chosen the path of violence will have to come to the dialogue table at some point of time, similarly dialogue is the only way to resolve issues.
"Samajnewale samajh jayenge. Akalmand ko ishara kaafi hai (Those who need to understand will get the message. Signal is enough for them. Those involved in terrorism must be punished and this message has come out clearly from here.
Terrorism does not have any boundary... Everyone will have to decide whether they are with terrorism or against it.
Good Taliban, bad Taliban. Good terror, bad terror...This won't work. Time has come now for a decisive battle between those supporting terrorism and those believing in humanity.
The United Nations Security Council, saying that it has not been able to define terrorism and which country should be declared as "terrorist state".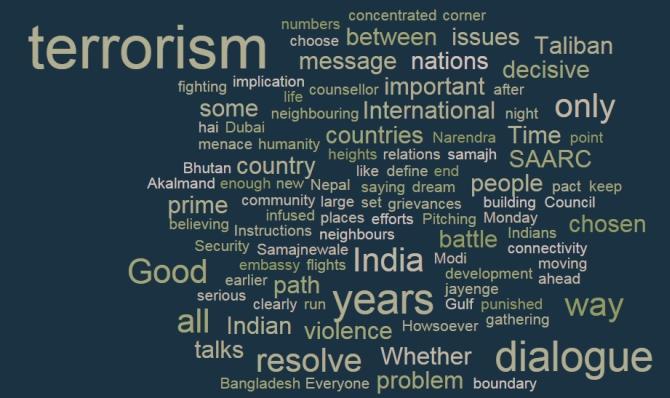 Howsoever serious a problem may be, at the end talks is the only way to resolve it. Whether you come to the dialogue table after fighting for 10 years, 20 years or 40 years, you will have to come for talks. I want to tell those who have chosen the wrong path that violence does no good to anybody.
Should we stop because some people had problem? Let them stay where they are. We are moving ahead. India, Nepal, Bhutan and Bangladesh have signed a pact for building connectivity. It is a major decision which will have implication in the long run.
A new life has been infused in SAARC which was earlier a forum for sparring and efforts to corner India. Our dream is to take development of SAARC nations to newer heights. Trust is important in international relations.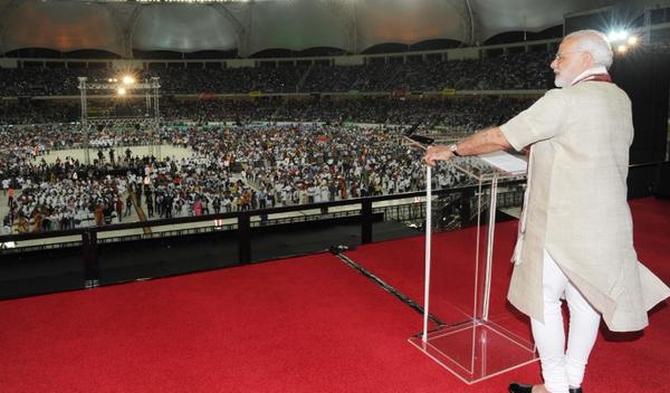 There were 700 weekly flights between India and UAE but it has taken 34 years for a prime minister to visit the important Gulf country.
Instructions have been given to the Indian embassy to set up counsellor camps at places where the Indian community is concentrated in large numbers to deal with grievances.