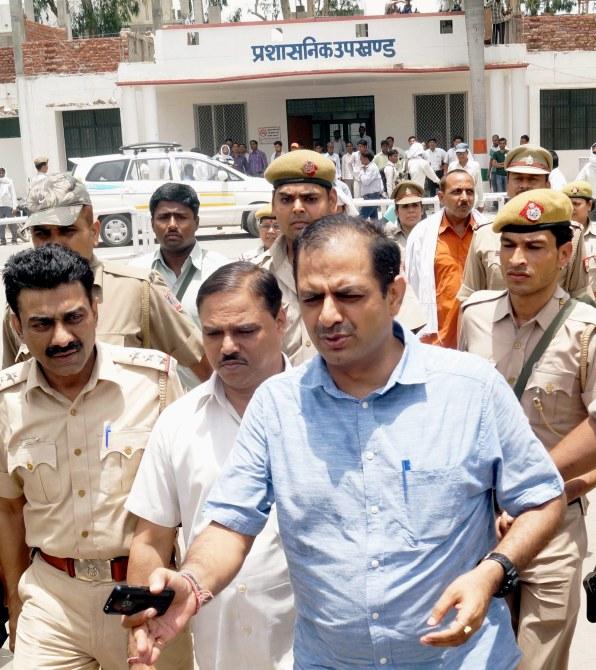 In a setback to Jitender Singh Tomar, a Delhi court on Thursday dismissed his revision plea against his police remand and refused to provide any immediate relief to the beleagured Aam Aadmi Party leader in the alleged fake degree case, saying granting him interim bail will further 'complicate' the matter.
Additional Sessions Judge Sanjeev Jain refused to accept interim bail plea of Tomar, a former law minister of Delhi, till the pendency of his application for regular bail, which he put up for hearing on June 16.
"Order for interim bail will further complicate the matter and the same is neither appropriate nor desirable. Keeping in view the facts and circumstances of the case, this matter requires objective consideration after going through the records.
"It is in the interest of all the parties that the bail plea is decided after considering the records on expiry of the police remand. Put up the bail application for June 16 before the court of competent jurisdiction," the court said.
It directed the investigating officer in the case to appear before the court at the next hearing. The court also dismissed the revision plea filed by Tomar, challenging his four day remand given to police by the metropolitan magistrate on June 9.
However, it said Tomar was at liberty to file a fresh plea against his police custody.
In his plea moved before the sessions court on Wednesday, challenging his arrest in the case, Tomar had alleged that police arrested him in violation of the procedure prescribed under the law.
Tomar, 49, was arrested on June 9 by the Delhi police following a first information report registered on the basis of a complaint lodged by Bar Council of Delhi for allegedly forging documents, including educational degrees, to enroll as an advocate.
He was remanded in four-day police custody till June 13 by a magisterial court. The police had sought five-day custody of Tomar, saying his law degree was 'fabricated' and he was required to be taken to Faizabad in Uttar Pradesh and Bhagalpur in Bihar to ascertain his educational qualifications.
He was grilled for the second day with the Delhi police trying to gather evidence on the veracity of his documents. He was kept at an undisclosed location during the night.
Earlier, it was reported that he was being taken to Munger in Bihar for verification of his degrees after initial interrogation in Faizabad on Wednesday.
The RMLAwadhUniversity, from where he claimed to have graduated, denied having any such record. A Delhi police team had examined documents at the Awadh University Registrar's office and taken them in a sealed cover.
"One Pradeep Kumar had filed an right to information asking for verification of a set of documents related to Tomar's mark sheets and degree. The university had replied on January 22 saying it had nothing of that sort in its records. We stand by our previous stand," its media in-charge S N Shukla said.
He was replying to a question on Tomar's B.Sc degree. Tomar had also claimed to have completed his LLB degree from VNSL Studies, a law college affiliated to Tilka Manjhi BhagalpurUniversity of Bihar.
On way to Faizabad, Tomar had on Wednesday maintained that the allegations against him were false and accused the Centre of a 'conspiracy'.
The police had told the court that the certificates, which Tomar claimed to be true, were fabricated and during the initial probe the authorities, who were purported to have signed those certificates, had denied their genuineness.
The IO had told the court that on the basis of a complaint given by BCD a preliminary enquiry was conducted and after receiving reports from the concerned universities an FIR was lodged
Counsel appearing for Tomar had contended that the police had arrested him without complying with provisions of the law and no notice under Section 160 of the CrPC was served to him prior to his arrest.
An FIR was registered against Tomar on June 8 at Hauz Khas police station and he was booked for alleged offences of cheating, forgery, using forged documents as genuine, forgery with intent to cheat and criminal conspiracy. Tomar was brought to Hauz Khas police station and later shifted to Vasant Vihar police station.
He was on Wednesday taken to Faizabad by the Delhi police for gathering more evidence.
Image: Police take former Delhi law minister Jitendra Singh Tomar to RML Awadh University in Faizabad for further investigation in the fake degree case. Photograph: PTI Photo