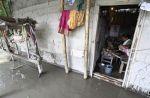 The headquarters of Sikkim's North district on Monday remained cut off from rest of the state as rescue teams struggled to access remote areas as the toll in floods rose to nine in Assam and four in Arunachal Pradesh.
With landslides blocking roads, rescue teams comprising personnel of Indo-Tibetan Border Police, army, Border Roads Organisation and state government personnel were finding it difficult to reach remote areas where 21 ITBP and BRO personnel were killed and eight were missing in flash flood and landslides on Saturday, official sources said.
Bad weather was also hindering helicopters from making sorties in the area. But they were trying to drop essential commodities in Chungthang, blocked at 36 places by a series of landslides and where there was no electricity or drinking water, the sources said.
A helicopter carrying Chief Secretary Karma Gyatso also could not land due to bad weather.
In Assam, the flood situation worsened with the Brahmaputra and its tributaries continuing to rise leaving nine persons dead and rendering 10 lakh people homeless in 16 districts, official sources said.
Three children drowned in a boat mishap at Makum near Sadiya in Tinsukia district last night while NDRF rescued 42 others, official sources said.
Two others died each in Dibrugarh and Tinsukia districts and one each in Sibsagar and Nalbari on Sunday, the sources said.
The worst affected districts of Assam were Baksa, Barpeta, Darrang, Dhemaji, Dibrugarh, Golaghat, Jorhat, Kamrup (rural and metro), Lakhimpur, Morigaon, Nagaon, Nalbari, Sibsagar, Sonitpur and Tinsukia.
Chief Minister Tarun Gogoi, who is in Japan, directed the administration to use helicopters and mechanised boats to step up rescue and relief operations.
The Army's Tezpur-headquartered Gajraj Corps rescued over 6,000 flood-affected people in Sonitpur district and distributed 2.5 tonne of food packets through helicopter sorties, Defence PRO Lieutenant Colonel S S Phogat said.
Phogat said additional specialised flood relief task force equipped with mechanized boats, life jackets, medical aid and relief material were on high alert to be deployed immediately should the situation further deteriorate.
Eight search and rescue teams of the National Disaster Response Force were working in various parts of the state, Commandant of the Guwahati-based 1st NDRF Alok Kumar Singh, told PTI.
"Four other SAR teams have been kept on stand-by and ready to move for immediate mobilisation and response," he said.
NDRF teams were engaged in rescue and relief operations in Tezpur, Tinsukia, Dhemaji and Rangia, he said.
Official sources in Itanagar said the toll in Arunachal Pradesh rose to four while the water level in rivers in worst-affected Lohit district was receding with the intensity of the rain decreasing.
Chief Minister Nabam Tuki announced an ex-gratia of Rs 1.50 lakh each to the next of kin of the victims and assured the people that the state government was doing everything possible to rescue the marooned.
The chief minister released Rs 10 lakh as immediate relief, the sources said.
Nine persons marooned at the confluence of Kamlang and Lohit rivers were rescued yesterday by an IAF chopper while 30 patients were air-lifted to Mohanbari in Assam's Dibruagarh district from Tezu.