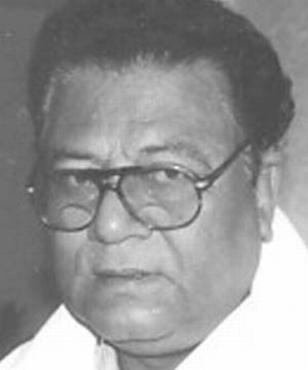 Eminent litterateur Sunil Gangopadhyay's sudden demise has stunned the literary world. Writer Samaresh Majumdar sums up the 'emptiness' being felt by the fraternity in Bengal, in this tribute
Sunilda was not only my contemporary, he was my guardian, a friend and a guide.
Sunilda was a face in the crowd for his boldness, uninhibited bohemianism and unabashed confessions.
His first novel, Atmaprakash, shook the conventional ideas of creativity to its roots and ushered in a new age altogether.
Sunilda was an iconoclast to the core.
Before Sunilda arrived on the scene, we had read the works of Samaresh Basu.


He was a fine writer but in his writings the writer was at a safe distance, a curious onlooker.


He was not a persona as such.
But with Sunilda's entrance, we saw a man who had no qualms in admitting to his readers that 'I am yet to get rid of the hangover caused by last night's heavy drinking'.
With this single admission, he penetrated the readers' soul.
Sunilda was a braveheart.


He never feared speaking his mind.
During an informal chat with writer Nihar Ranjan Gupta, the latter had once told me, 'I maintain a safe distance with my readers. I am too scared to get too close to them'.
But Sunilda was a class apart. 
He was forthright, honest and direct both as an individual and as a creator.
He was as popular in Bengal as in Bangladesh.
I have often heard people saying 'Undivided Bengal has two stars -- Humayun Ahmed and Sunil Gangopadhyay'.
His fame transcended borders and his works enthralled readers in places as distant as USA, the UK, New Zealand, Australia, South Africa etc.
We have had many scintillating adda sessions and never ever did I hear Sunilda criticising any body.
He simply hated the exercise.
When we were in Bangladesh, I heard him lamenting why can't shops in West Bengal bear endearing Bangla names?
Today, Bengal lost its moner manush (man of the heart).
It's a sad day.
Literature has lost one of its most dedicated servants.
Image: Samaresh Majumdar
As told to Indrani Roy