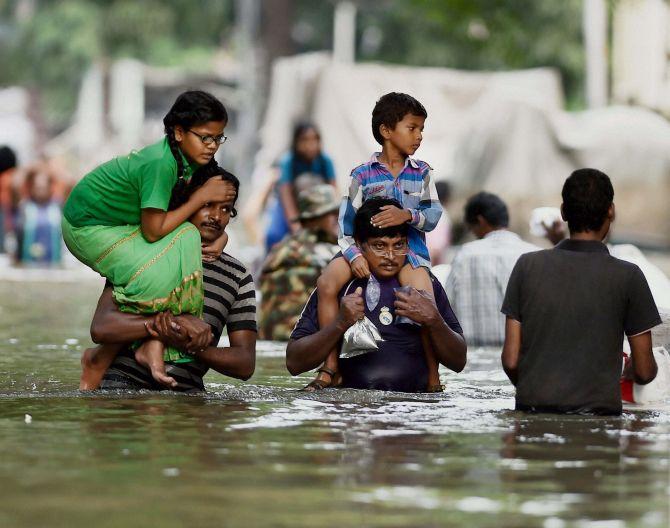 Extreme rainfall that occurred in Tamil Nadu is "highly localised" and is part of the natural variability of the monsoon system and its attribution to global warming is "not established", the Rajya Sabha was told on Monday.
"Extreme rainfall that occurred over coastal districts of Tamil Nadu is highly localised and is part of the natural variability of the Indian monsoon system.
"Although some studies have reported an increase in frequency and intensity of extremes in rainfall during the past 40-50 years, their attribution to global warming is not established," Environment Minister Prakash Javadekar said in a written reply in Rajya Sabha.
Extreme rainfall wreaked havoc, leading to massive flooding in many districts of Tamil Nadu recently. He said the Inter-Governmental Panel on Climate Change and assessment methodology used in India have indicated that extreme rainfall events are likely to be more frequent in the later part of the 21st century.
"As regards (to) other extreme weather phenomenon, there are many other reasons for their occurrence which may not be related to climate change," he said.
He said that the Northeast monsoon season during October-December is the chief rainy season for Tamil Nadu and Puducherry and during November, three large scale weather systems affected both the places causing extensive rainfall activity over the region.
"The Earth System Science Organisation -- IMD has predicted above normal rainfall in excess of 111 per cent of the long period average in its forecast outlook for 2015 Northeast Monsoon season rainfall over the South Peninsula," the minister said.
Noting that floods occur due to the hydrological response of heavy rainfall, Javadekar said that its manifestation needs to be assessed by the local authorities.
"In this (Chennai floods) case, three days advance warnings were issued for placing emergency planning response action by the local authorities," he said.
The Union minister said non-climatic reasons for flooding in cities and industries located in high risk locations, particularly coastal and riverine areas, include lack of proper urban planning, demographic pressures, improper sewage disposal and drainage systems, and encroachment of land.
"As per some reports, the rains and the excess water released from the dam at Chembarambakkam resulted in the flooding of Adyar, its banks and inundated its floodplain," he said.