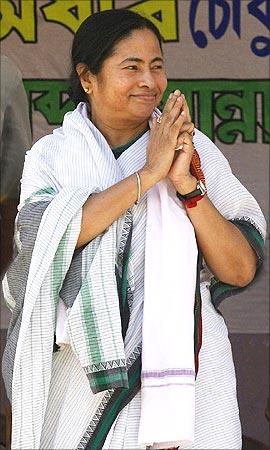 The Trinamool Congress on Thursday dismissed that it has reached an understanding with the Bharatiya Janata Party in the Rajya Sabha where the National Democratic Alliance does not have a majority.
"There is no basis in it," all TMC General Secretary Mukul Roy said, referring to Communist Party of India (Marxist) leader Mohammad Selim's remark.
The CPI(M) Lok Sabha member of Parliament while reacting to Prime Minister Narendra Modi's praise for West Bengal Chief Minister Mamata Banerjee on Thursday, had told a local TV channel that it was aimed at enlisting TMC's support in the Rajya Sabha.
He also alleged that TMC has reached an understanding with the BJP government at the Centre in the Upper House where the NDA did not enjoy majority.
"It's a baseless allegation. I do not like to reply to what he has said. They have been rejected by the people in the elections. They have become irrelevant as a political force," Roy, who is the chairman of TMC Parliamentary party, said.
"Centre and state relationship is a different matter while political opposition is another. We will go by our own policies. We are neither with the BJP-led NDA nor with the Congress. This was our stand in the last Parliament also," Roy whose party has 34 Lok Sabha MPs and 12 Rajya Sabha members said.
Image: Trinamool Congress chief Mamata Banerjee